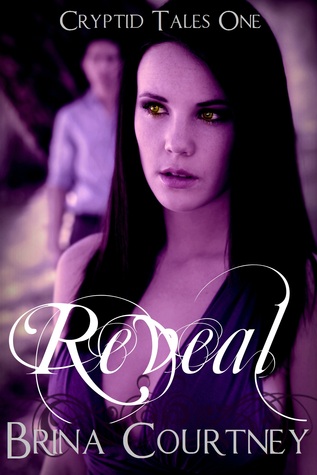 Reveal (Cryptid Tales – 1) by Brina Courtney
5 stars
(Excerpt from Goodreads) Shay could be the key to ending a war that humans don't know exist. Of a race of beings that aren't real, or are they?
Shay Tafford's childhood has been fatherless, filled instead with memories of speaking to the dead. She is forced to hide her unique ability from those living around her. That's why it's been comforting to have Jeremy, a child ghost, as her confidante. But recently he's been absent, perhaps lost as her father is. When Shay meets Hugh, the guy she's had a crush on for weeks, and finds he can speak to ghosts too she's just starting to find a normalcy in her life.

But as Hugh reveals the truth to Shay, about who she really is and about what it is she can do, he erases all chances she had at a normal existence. Turns out talking to ghosts is just scratching the surface of her genetically engineered gifts. Shay learns she may be part of an age old prophecy that could save the entire race of cryptids. But can she?
Shay has been able to communicate with ghosts for as long as she can remember. Her guide has been Jeremy, a young boy that perished in a fire at the orphanage he lived at. Then one day she gets upset and accidently banishes him which she has regretted since then. As Shay is finishing her senior year at high school, she runs into a cute guy, Huge, at the college that her mother works at.
She also meets Wendy, a 6 year-old girl that is looking for her father. Through her, Shay learns that she can summon ghosts from another plane and she learns that Huge and she have more in common than she first though. But she has little time to learn about her new abilities. The Darkness, which started the fire at the orphanage is back and is looking to get its hands on her.
This is a great book. I felt for Shay, she lost her father, can communicate with ghosts, and learns there is more to her than just the talking to the ghosts. I also felt for Huge, you can tell that he didn't really have much and he has this horrible ability to do the wrong thing when it comes to teaching Shay about her powers. But in the end he is a good guy.
I can't wait to find out what happens in the nest book. This is a one young adult paranormal story that you don't want to miss.
For more information about Cryptid and the other books in the series be sure to check out Amazon, Barnes and Noble, and Goodreads.