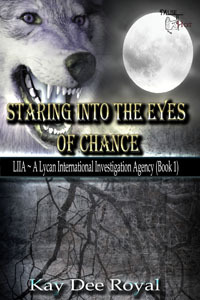 Staring into the Eyes of Chance (LIIA – 1) by Kay Dee Royal
5 stars
(Excerpt from Goodreads) Olivia endures a thirty-four year passionless marriage, discovering her dead husband's philandering history at his funeral. She devotes her energy and life-long sensitivity with animals to her wildlife refuge and preserve.
Chance, a Lycan alpha and leader of the Lycan International Investigation Agency (LIIA) throws himself into his investigations. He chooses to neglect his duty of finding a primal-mate after watching his father become an empty shell over the loss of his.
A murderous rogue pack draws Chance onto Olivia's wildlife preserve, sending Olivia's animal sensitivities into overdrive. Chance and Olivia discover a sizzling force driving them together.
Will they succumb to its enticing tether, or fight to resume their loveless lives apart?
Olivia runs a wildlife rehabilitation in Washington and will the help of her animal psychic abilities helps wild animals heal and releases them. She is also trying to get over the betrayal of her deceased husband and all his cheating on her. Olivia's sister is insistent on getting her back together with another man and her best friend is very protective of her.
Chance is the alpha of a lycan pack that is hunting a lycan that has been killing people all over the world. But there is something odd about this lycan, he is almost a shadow. The pack can follow his scent but then it just abruptly ends. When one of Chances people discovers that there is a drug that is supposed to hide you scent they think they are going to have an edge to catch this lycan.
But when the lycan targets Olivia, Chance runs into her and discovers that she is his primal-mate. Olivia is going to get a surprise of her life when she hooks up with Chance and is going to get a crash course in lycans, pack behavior, and how crazy this rouge lycan can really be.
I really liked this story. Great action, lots of sex, and a really good story. I really felt for Olivia and all the hell she went through with her husband and how she was not going to get together with Chance without a fight. Smoke is one evil bastard and I really hope he dies a slow and painful death. But the story ends with a huge cliffhanger. I can't wait to read Savage Smoke.
I received this book from the author in exchange for an honest review.
For more information or to purchase Staring into the Eyes of Chance be sure to check out Amazon, Barnes and Noble, or Goodreads.