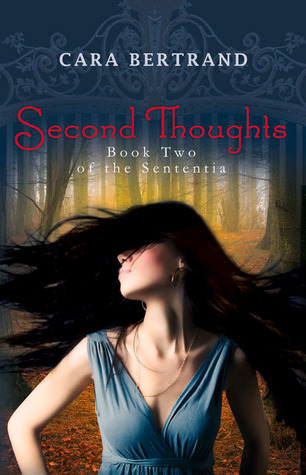 Second Thoughts (The Sententia – 2) by Cara Bertrand
5 stars
(Excerpt from Goodreads) Secrets, lies, and looming deaths—all things Lainey Young deals with in a typical day of high school. In her senior year at Northbrook Academy—a New England boarding school where the majority of the students and nearly all the staff are members of the Sententia, a hidden society of the psychically gifted—Lainey has even more to worry about. Things like classes, college, her boyfriend, and, of course, the vision she glimpsed of her impending death. But to her surprise, Lainey finds one worry she can cross off her list, namely Senator Daniel Astor, the leader of the Sententia. After a shocking discovery when they finally meet, Lainey realizes maybe she was wrong to distrust the Senator. She relaxes even further when he seems to accept her refusal to work for him after graduation. But with her secrets mounting and the time to solve them running out, there's a final enigma Lainey hasn't yet encountered: Daniel Astor doesn't take no for an answer. Ever.
Lainey is in a high school for teenagers with all kinds of abilities called the Sentenia. But Lainey is the rarest of the rare, she has two gifts and one of them gives her power over who can live or die. The leader of the Sentenia, Daniel Astor wants her to work for him. When she refuses it seems like there is not going to be any trouble for her.
But there are secrets that are going to drag Lainey down, if her powers don't kill her in the mean time. Also, Daniel Astor is not going to take no for an answer. If high school wasn't hard enough, having killer powers and a power hungry leader is not going to make life easy for Lainey.
I have to admit that I have not read Lost in Thought. I was a little lost for some things but I did catch up. I really liked this story, all the characters were believable and the setting was well described. It feels like you are back in high school but with an extra twist. Lainey is a great character, tough and strong even when she still has no idea what special powers she has.
I will say that I felt the pace of the book was a little slower, but it's not bad. There are a lot of things going on and a lot of development. It works for this book.
This is a great story that will appeal to anyone whether young adult, teen, or adult. I recommend reading Lost in Thought. I think you will get into Second Thoughts a lot easier. But this is one book that I think you should add to your library.
I received this book for free in exchange for an honest review.
For more information on Second Thoughts or to purchase the book make sure to check out Amazon, Barnes and Noble, and Goodreads.