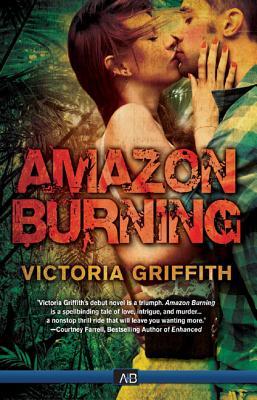 Amazon Burning by Victoria Griffith
4 stars
(Excerpt from Goodreads) When 22-year-old aspiring journalist, Emma Cohen, is forced to flee the comforts of her NYU student life, she maneuvers an internship from her father at his newspaper in Rio de Janeiro. There, Emma is immediately swept into a major news story–and a life-threatening situation–when a famous jungle environmentalist, Milton Silva, is mysteriously murdered. Emma must now enter the Amazon rainforest with her father to investigate; both awed by the enormity and beauty of the Amazon, and appalled by its reckless destruction. Not only will Emma have to brave the primal world of the Amazon, she must fight to survive the kidnappers, villains, corrupt activists, and indigenous tribes that lay in wait along the ever-twisting trail of the murder case. Stretched to the brink, it s up to Emma, her father and the dreamy news photographer, Jimmy, to unravel the mystery and live to tell the tale.
Emma has had some trouble at NYU and has to leave. She decides to go to Rio de Janeiro and intern with her father at his newspaper. While there, environmentalist Milton Silva is murdered and Emma travels to the Amazon with Jimmy to figure out who did it. Along the way, Emma gets mixed up with kidnappers, indigenous tribes, trafficking exotic animals, and other adventures.
I liked the mystery of who killed Milton Silva. There were some good red herrings that kept me guessing until the end about who killed him. I do like following Emma and watching her mature throughout the story. It was a great way to portray a lead character, especially at an age that they are just learning who they really are.
I kind of was disbelieving about the legal issue Emma left NYU for. If it was that serious I doubt she would have been allowed to just leave the country. The other thing was I had never heard of NA. I figured this was a YA book. It's not that I'm a prude, it was just unexpected.
Over all I really liked this story. It has a great mystery and is a good coming of age book. This would be a great story for those that like contemporary romances with some mystery.
I received this book for free in exchange for an honest review.
For more information on Amazon Burning or on Victoria Griffith be sure to check out Amazon, Barnes and Noble, and Goodreads.