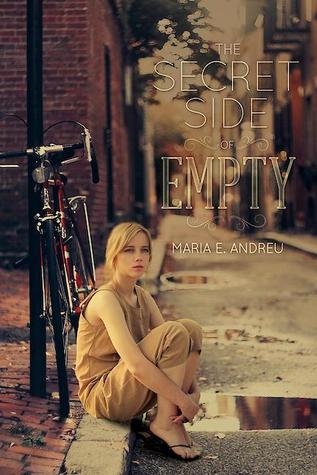 The Secret Side of Empty by Maria E. Andreu
5 stars
(Excerpt from Goodreads) As a straight-A student with a budding romance and loyal best friend, M.T.'s life seems as apple-pie American as her blondish hair and pale skin. But M.T. hides two facts to the contrary: her full name of Monserrat Thalia and her status as an undocumented immigrant.
But it's harder to hide now that M.T.'s a senior. Her school's National Honor Society wants her to plan their trip abroad, her best friend won't stop bugging her to get her driver's license, and all everyone talks about is where they want to go to college. M.T. is pretty sure she can't go to college, and with high school ending and her family life unraveling, she's staring down a future that just seems empty. In the end, M.T. will need to trust herself and others to stake a claim in the life that she wants.

Monserrat Thalia, MT is a senior in high school. Things are going well for her. She has great friends, a first boyfriend, and things seem to be going well for her. But she has a secret that she can't tell anyone. She is an undocumented immigrant from Argentina. This means getting her drivers license, past port, or even going to college don't look to be in her future. But that's just the beginning. Things just seem to keep getting worse and piling up around her.
I loved this book. It talks about a touchy subject, illegal immigration. And with all the events in the news recently, this book came out at the perfect time. Usually when you talk about illegal immigration everyone seems to jump up and scream go home, we don't want you here, you are a drain on society. But there is more to it than just that aspect and this book brings the other side to the light. And for being such a major topic you would think that there would be more books that talk about immigration.
MT is a great kid but she has all this pressure on her and no one to turn to. Along with the normal teenage stuff here she has her family and being undocumented. I got sucked in to the book and wrapped up with MT's life. When she finally opens up, I was crying right along with her.
This is a must read for anyone, it's one that should be required reading. Go, get this book, you will not be disappointed.
I received this book for free in exchange for an honest review.
For more information about The Secret Side of Empty be sure to check out Amazon, Barnes and Noble, and Goodreads.