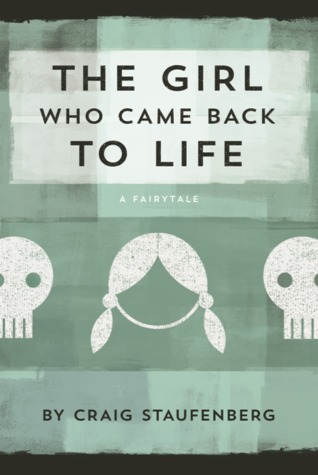 The Girl Who Came Back to Life by Craig Staufenberg
4 stars
(Excerpt from Goodreads) A book about love and loss, and how to live in a world filled with both…
When you die, your spirit wakes in the north, in the City of the Dead. There, you wander the cold until one of your living loved ones finds you, says "Goodbye," and Sends you to the next world.
After her parents die, 12-year-old Sophie refuses to release their spirits. Instead, she resolves to travel to the City of the Dead to bring her mother and father's spirits back home with her.
Taking the long pilgrimage north with her gruff & distant grandmother-by train, by foot, by boat; over ruined mountains and plains and oceans-Sophie struggles to return what death stole from her. Yet the journey offers her many hard, unexpected lessons-what to hold on to, when to let go, and who she must truly bring back to life.
Sophie is 12 years old. She has just lost her parents and has decided that instead of going to the City of the Dead to release her parent's souls she is going to bring them back with her. Sophie is living with her cold grandmother that has no time for anything but her routines. She also has to travel to the City of the Dead and release her husband's soul.
As her grandmother goes about her day and heads to the bakery, Sophie follows and starts planning how she is going to earn money to go north with her grandmother. She is eventually hired for the bakery but has learned that she is too cold inside, that she has to have an inner heat to make the bread rise. But this heat is painful since it reminds her too much of her parents.
Eventually spring comes and both Sophie and her grandmother set out on train, bus, foot, truck, and boat to get to the City of the Dead. Along the way Sophie loses her grandmother but meets interesting people that help to show her about the world she lives in.
I liked this story. I was a little lost in the beginning. Things felt rough, blocky but that was because that was how Sophie and her grandmother interacted. I liked how Sophie learns about herself and others on her adventure. There were some great characters to help her along but her relationship with her grandmother was the toughest.
This is a great story and I think that many people will like it. Definitely give it a try.
I received this book in exchange for an honest review.
For more information about this story, make sure to check out Amazon, Barnes and Noble, and Goodreads.