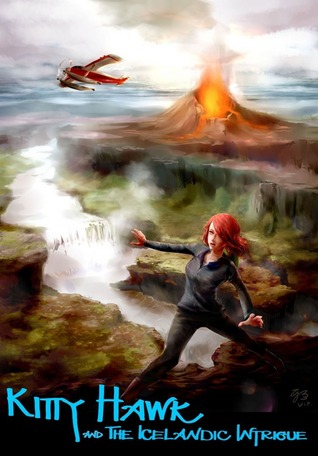 Kitty Hawk and the Icelandic Intrigue (Kitty Hawk – 3) by Iain Reading
5 stars
(Excerpt from Goodreads) Following in the footsteps of her hero Amelia Earhart, Kitty Hawk sets off on an epic flight around the world and arrives in Iceland's capital city of Reykjavik where she finds herself immersed in a beautiful alien world of volcanoes, Vikings, elves and trolls. Before she knows it Kitty is plunged head first into an amazing adventure that sweeps her across a rugged landscape where humans and nature exist side-by-side in an uneasy truce and magical realms seem to lie just out of sight beneath the surface.
Kitty is off again on her around the world flight. This time she lands in Reykjavik, Iceland. While taking in the local sites, she is drawn to the possible sabotage of an aluminum smelter. It's hard to tell if it is local corrupt government officials, environmentalists, or elves. But Kitty is there to get things straightened out all the while exploring Iceland.
I just love this series. Kitty is such a strong character and able to get herself into and out of situations. I also love the descriptions of where she is at. It makes me feel like I'm right there next to her and the volcano.
This book seemed to start out a little slower than the last two, but there is so much more action in it. I love all the extra information at the end of the book or additional reading but I really enjoyed the discussions of elves and trolls.
This is a great series that anyone of any age would enjoy. I do think you could read the books as a stand alone with how they are written. But I recommend reading them from the beginning. Hurry and make this one series that you will keep and pass along.
I received this book for free from the publisher in exchange for an honest review.
For more information on the Kitty Hawk series or to purchase Kitty Hawk and the Icelandic Intrigue be sure to check out Amazon and Goodreads.