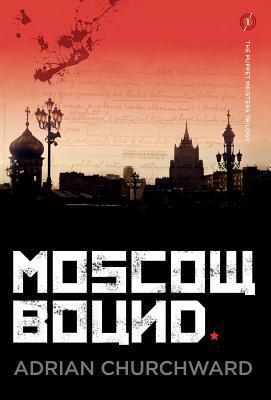 Moscow Bound by Adrian Churchward
4 stars
(Excerpt from Goodreads) Ekaterina Romanova, the estranged wife of Russia's wealthiest oligarch Konstantin Gravchenko, asks Scott Mitchell, an idealistic young English human rights lawyer who is being intimidated by the authorities, to find the father she's never met. She believes he's been languishing for decades without trial in the Gulag system. Meanwhile, General Pravda of military intelligence, though an advocate of transparency, is determined to protect a covert operation that he's been running for years. General Pravda hinders Ekaterina and Scott at every turn and lawyer and client are forced to go on the run for a murder they didn't commit. As they descend into the Hades that is the world of international realpolitik Scott is compelled to reconsider his own values, and Pravda's life's work disintegrates, when Scott uncovers a 50 year-old Cold War secret, which both the Russian and US governments are still trying to hide from the public domain.
Scott Mitchell has just won a case against the Russian military. Needless to say he has made a name for himself but he has not made many friends. Ekaterina Romanova is on the hunt for her missing father and she turns to Scott to find him. But every where they turn they run into trouble.
General Pravada was assigned the task of watching over some men years prior and has learned the Scott and Ekaterina are interested in one of those men. So, he tries his best to detour them from finding him. But he starts questioning his job when secrets start coming out.
This is an interesting book. I couldn't help but get wrapped up in the story, especially with that prologue. This book is so detail oriented I felt right there along with Scott and Ekaterina trying to find her dad. I like the dynamics on the search. Ekaterina has more information than what she is giving Scott but it's like pulling teeth to get it. And Scott, after his legal battle with the military you would think that he would know now to trust any of them.
I admit that I don't really read that many stories along the line of this book but I'm really glad that I did. I couldn't wait to see what was going to happen next. This is a great, fast paced book with lots of twists and turns. I can't wait to find out what happens in the next book.
I received this book for free in exchange for an honest review.
For more information on Moscow Bound or to purchase it, be sure to check out Amazon, Barnes and Noble, Goodreads, and Adrian Churchward's website.