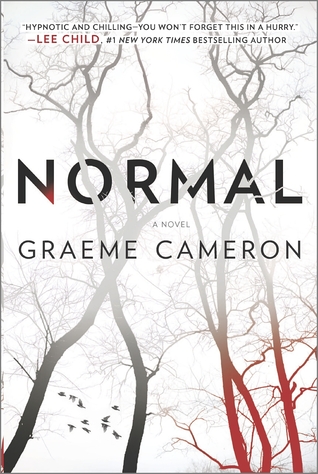 Normal by Graeme Cameron
4 stars
(Exceprt from Goodreads) "The truth is I hurt people. It's what I do. It's all I do. It's all I've ever done."
He lives in your community, in a nice house with a well-tended garden. He shops in your grocery store, bumping shoulders with you and apologizing with a smile. He drives beside you on the highway, politely waving you into the lane ahead of him.
What you don't know is that he has an elaborate cage built into a secret basement under his garage. And the food that he's carefully shopping for is to feed a young woman he's holding there against her will—one in a string of many, unaware of the fate that awaits her.
This is how it's been for a long time. It's normal… and it works. Perfectly.
Then he meets the checkout girl from the 24-hour grocery. And now the plan, the hunts, the room… the others. He doesn't need any of them anymore. He needs only her. But just as he decides to go straight, the police start to close in. He might be able to cover his tracks, except for one small problem—he still has someone trapped in his garage.
Discovering his humanity couldn't have come at a worse time.
This story is told from the point of view of the killer. We follow him as he kidnaps and locks women up in a cage below his garage. Then he plays with them, disposes of them, and goes on to the next girl. But then Erica, the grocery checker catches his eye. He becomes obsessed with her. He decides that he is done kidnapping and killing. He is going to put it all away just to be with her. But the cops are sniffing around him and he still has a girl in his cage.
I have to say that I really liked this book. It's done from the killer's point of view; you don't even learn his name. I like when books take that direction but they run the risk of being unrealistic. Normal does a great job with him having a normal appearance and reactions out in public but being his real self at home. You also get a case of Stockholm syndrome because you almost cheer the killer on and hope he doesn't get caught.
I think the best part of this story is it makes you start questioning the people around you. How well do you really know your neighbors, co-workers, or the barista? Just thinking about that gives me that creeps. Now I don't want to leave my house.
This is a good thriller. I would recommend adding it to you TBR list.
To purchase Normal or for more information be sure to check out Amazon, Barnes and Noble, Goodreads, and Graeme Cameron's website.
I received this from the publisher in exchange for an honest review.