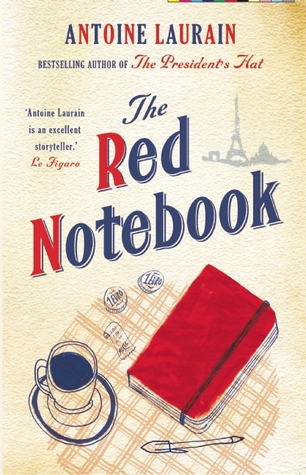 The Red Notebook by Antoine Laurain
4 stars
(Excerpt from Goodreads) Heroic bookseller Laurent Letellier comes across an abandoned handbag on a Parisian street. There's nothing in the bag to indicate who it belongs to, although there's all sorts of other things in it. Laurent feels a strong impulse to find the owner and tries to puzzle together who she might be from the contents of the bag. Especially a red notebook with her jottings, which really makes him want to meet her. Without even a name to go on, and only a few of her possessions to help him, how is he to find one woman in a city of millions?
The story starts out with a young woman having a night out. When she returns home her purse is stolen. She cannot call for help and has no money but convinces a hotel to let her stay for the night. The next morning, Laruent is on his morning stroll to the local café before going to work. On his way he finds a purse on a trash can. He feels bad about taking it but he decides that he wants to return it to its owner.
Unfortunately the purse has few belongings left but it does have a small red notebook with the inner thoughts to the owner. As Laurent delves deeper into the notebook and trying to find its owner, he has many adventures and things happen to him.
This is a cute little book. I loved the story, Laurent feels conflicted going through the belongings yet he is so admirable by trying to find the owner. I really enjoyed all the things he goes through on his journey to find the young lady. My only complaint was that the book was way too short, but what kind of complaint is that.
This is a quick read that you should add to your list. It's a great story that will suck you in and leave you wanting more.
To purchase The Red Notebook or for more information be sure to check out Amazon, Barnes and Noble, and Goodreads.
I received this book for free in exchange for an honest review.