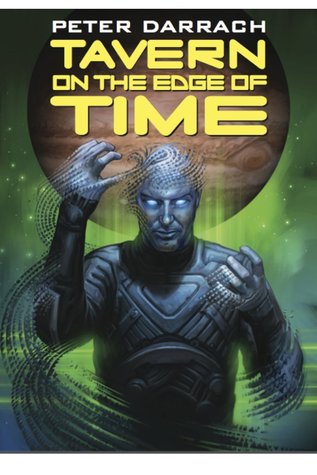 Tavern on the Edge of Time (The Second Skin Sequence – 3) by Peter Darrach
4 stars
(Excerpt from Goodreads) During the year 2125, former asteroid miners Max Cody and Elaine Zhou never get a moment's rest. No sooner have they doused the flames of war between Earth and Mars or returned from their first trip to the Tavern on the Edge of Time when they are called upon to help fit out the fledging Martian colony orbiting Jupiter's moon Callisto. In parallel, Earth extradites the war's fomenter, ex-billionaire arms merchant Xanthus Rex, hoping to gain from his insights into Martian teleportation technology, but he manages to turn Earth's resources toward private revenge against Max, Mars, and the Callisto Colony. In the meantime aliens are leaking into the Earth-Mars continuum from the Tavern, whose proprietor repaired and upgraded Max after accidentally injuring him during an asteroid mining expedition. Max's enhancements help, of course, but when strange beings with the power to animate matter—the Assemblers—find their way to Earth, Max, Mars, and humanity are sorely beset. Worse yet, the Tavern itself is becoming unstable, its acquisitive host having overstretched his considerable powers. His prospecting for collapsed neutron matter has also opened portals between continua, inadvertently adding still more aliens to the mix. That's when the Assemblers' overlord arrives and Max finally meets his match. Oh, and Elaine is expecting their hybrid baby. Yes, you might say these are difficult times at the Tavern on the Edge of Time.
We start the book where we left off in Second Skin, Too with Max and Elaine at the Tavern on the Edge of Time after preventing war between Earth and Mars. Just like in the other books, there is a lot going on. Max is helping setup a break off group of Martians on Jupiter's moon, Callisto. But things are not peaceful on Earth and it looks like war is going to break out again with Earth, Mars, and the Callisto Colony.
From there, the Tavern is set in a separate dimension. Unfortunately the owner is starting to loose control of the world and threatening those in it. You also have the Assemblers that want to assimilate the other aliens. And if that wasn't enough, Elaine is expecting and Max is worried about the hybrid alien baby.
There is a lot going on but it seems to flow well. You can just feel how Max is getting stretched thin and how everything else is right there with him. But if Elaine and him can stop a war you know that they can handle this mess too.
My only complaint would be that there is almost too much going on. When you start having the different aliens fighting it seemed a bit much. I'm sorry but I think that there were some parts that could have been culled.
Beyond that, this is still a good read. I have read the other two books in the series and strongly recommend that you start with Second Skin otherwise you will be lost. I do think that if you like science fiction that you will like this series.
To purchase Tavern on the Edge of Time or for more information on the Second Skin series make sure to check out Amazon, Barnes and Noble, Goodreads, and Peter Darrach's website.
I received this book for free from the author in exchange for an honest review.