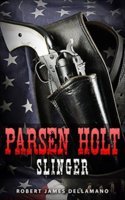 Parsen Holt – Slinger by Robert James Dellamano
4 stars
(Excerpt from Goodreads) A taut, gripping western filled with unexpected encounters, interesting characters and exciting adventure!

Join Parsen as he's forced to layover in a small town that he doesn't want to be in. And whose residents don't want him there either.

Will Parsen make it out of town alive?

Read the tale and find out for yourself!
Parsen is in town because his horse came up lame. But he doesn't get much of a rest before his name causes quite a stir. Parsen is a gunslinger, but he knows his skills and he knows many people think they can make a name by killing him. There is a man that wants to even the playing field for others like him, a kid that figures this is the only way to get out of town, and some thugs that think they can force Parsen out of town. Clearly he is not going to get much of a rest before having to head out again.
I liked this story. It was short and too the point. Parsen has a great history and I have to say that he has more control than I would have in these confrontations. Although he doesn't come out of all of them without some bruises, he does take care of the problem.
The writing is really well done and the fight sequences are well put together. Although this is a short read you don't want to pass it up. I would like to read more from Robert. I can't wait to see a full length novel.
For more information or to purchase Parson Holt – Slinger make sure to check out Amazon, Barnes and Noble, and Goodreads.
I received this story for free in exchange for an honest review.