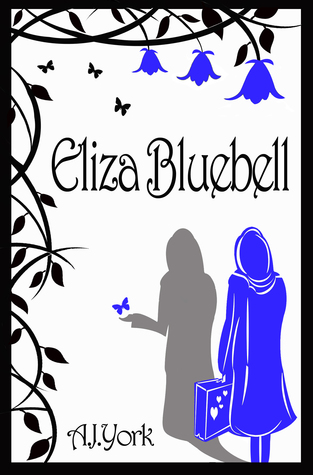 Eliza Bluebell by AJ York
5 stars
(Excerpt from Goodreads) In the picture postcard village of Blossom Brook, Eliza Bluebell arrives changing the lives of the locals forever. With the help of her playful shadow, Eliza transforms an empty shop on the High Street into the heart and soul of the village. Find out how and read this fantastical story about friendship, butterflies and fairy cakes.
Reading this story is a truly magical and uplifting experience that should not be missed. Read it today!
Watch the trailer! http://youtu.be/l3hMVd05EsI
Eliza is a special person that just shows up in Blossom Brook one day. With the help of her shadow she fixes up a run down store. Everyone initially disregards it because it is a tea room but after they come in something magical happens. Eliza always seems to have just what everyone wants or needs. Through gentle suggestion she helps a young girl apologize to her best friend and helps a young man broaden his experiences with baking.
I really liked this book. It is a short story that would be perfect for bedtime. Eliza is magical and with the help of her shadow she helps the residents of Blossom Brook. I have to say one of my favorite characters was Popeye and how things turned out for him.
This story is filled with magic and would make anyone, young or old, ready to read more books from AJ York.
For more information on Eliza Bluebell or to purchase the book make sure to check out Amazon, Barnes and Noble, Goodreads, and A.J. York's website.
I received this story for free in exchange for an honest review.