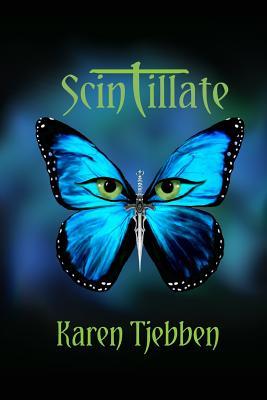 Scintillate ( Scintillate Series – 1) by Karen Tjebben
4 stars
(Excerpt from Goodreads) Kate Archer is instantly drawn to Nick, the new boy at school. He's handsome, smart, and interested in her – perhaps a little too interested according to Kate's brother. And it's a good thing Nick is interested, or Kate would have died the night of the football game. Sure, Nick rescued Kate, but he can't stop the inevitable. Kate is changing; she just doesn't know it. She can't explain the visions and sensations affecting her body, but she can enjoy the pleasure of Nick's kiss – that is, until she learns the real reason he is with her. Betrayed by her genetics, Kate begins a metamorphosis that forces her to confront an unseen reality and claim her true destiny.
Kate is your typical high school girl. She has a super crush on her best friend's brother. Then a new guy, Nick comes to school and she is instantly fascinated with him. But when she is around him strange things happen. She finds herself in different situations and Nick just seems to be around to save her causing her to just like him more. But Kate is not your ordinary girl and once she learns the truth, doesn't really want to accept it or Nick.
I have to say that I have mixed feelings about this book. I like the concept of the story, I am interesting I seeing how this series is going to progress. Kate was interesting. There are some of her behaviors that are irritating and naïve, but I could understand that she has no real experience to draw from. Of course you have to have a love triangle. I'm sorry; I admit that I'm not really a fan of love triangles and insta-love.
It is a good story and will draw you in. I couldn't wait to find out what was going on with Kate. But, you don't find out until close to the end of the book. It was a bit disappointing that the book moved so slowly. You will also have a lot of questions that will not be answered with the first book.
Now, just because I seem to be complaining about the whole book, I'm not really doing so. This was a good story. I did want to know what was going to happen next and I did like the relationship between Nick and Kate. In the end I think I will be reading the next book in the series, mainly for more information about Kate and the Asteri.
For more information on Scintillate or to purchase the book make sure to check out Amazon, Barnes and Noble, Goodreads, and Karen Tjebben Facebook page.
I received this book for free from Reading Addiction Virtual Book Tours in exchange for an honest review.