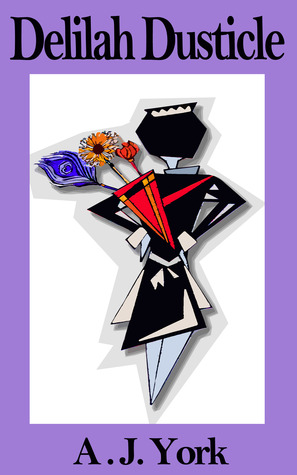 Delilah Dusticle (Delilah Dusticle – 1) by AJ York
5 stars
(Excerpt from Goodreads) Delilah Dusticle has special powers. She can completely eradicate dust. With her quiver pouch of special dusters, Delilah can run up walls, reaching places others just can't. As a maid in the Fenchurch-Whittington house, Delilah's unusual skills soon lead to her being promoted to Chief Dust Eradicator and Remover. Until one day, when a broken heart leads to her powers taking an expected turn.
This is the first book in a quirky middle grade fantasy series. The story entices the reader into a new and magical world that appeals to both kids and adults. The reader can explore how the ordinary in life can be extraordinarily overlooked, how friendship can help you overcome life's difficulties and how accepting yourself is the biggest challenge of all.
Delilah has a magical ability to make dust disappear. She is the best dust eradicator and remover and has many people offering her jobs. But she has a secret. Delilah loves Charles, the son of Mrs. Fenchurch-Whittington and there is a strict no fraternizing with the help policy. So Delilah stays quiet and loves Charles from afar.
But something happens and Delilah is crushed and ends up spreading more dust around than she can clean. How can you be a dust eradicator when you have more dust falling from you than snow in a blizzard. Delilah must now find her own way in the world. She gets by on the kindness of strangers. Then one day a chance encounter changes everything for her.
This would be another great story for bedtime. It is short but has lots of things happening. I felt sorry for Delilah but I loved how she turned things around and who became her best friend. What a great example of not judging someone when you first see them without learning more about them.
This is a story that anyone of any age would like. Just make sure to look out for part two – Delilah Dusticle's Transylvanian Adventures.
For more information on Delilah Dusticle or to purchase this book make sure to check out Amazon, Barnes and Noble, Goodreads, and AJ York's website.
I received this book for free from the author in exchange for an honest review.