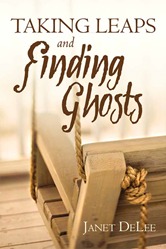 Taking Leaps and Finding Ghosts by Janet DeLee
5 stars
(Excerpt from Goodreads) Dreams aren't just for the young, and Ginny Lawther is happy to prove that even at the age of fifty-eight she can still brave a leap of faith…she just needs a little prodding from like-minded individuals. Step one: place an ad in the local newspaper inviting other dreamers to form an Ideal Life Club. Step two: see if anyone shows up.
When Ginny meets four hopeful strangers at the first club meeting, she thinks they're off to a great start.
Now it's only a matter of time before the sixty-something widow Hilda turns her crafting into a full-time career; the twenty-something Jerry becomes a professional musician; and the thirty-something housewife Lydia publishes her cookbook. That is, until the rugged divorcé, Lee, sets a goal to solve his ghost problem—and upends all their lives!
Suddenly the support group isn't just trying to navigate the ups and downs of pursuing their dreams; they're also wrestling with a strange cast of spirits who keep interrupting their endeavors. What do these apparitions want? And why have they latched on to the Ideal Lifers?
Haunting, humorous, and hopeful, Taking Leaps and Finding Ghosts sparks the imagination and breathes unexpected life into everyday reality.
Ginny Lawther is a successful author and wants to share with others the chance to reach for their dreams. So, Ginny puts an ad in the local newspaper. Although she is expecting a huge crowd of people, she only gets four. Hilda works at an assisted living facility and dreams of making money from her crafts. Jerry wants to be a successful musician but has a hard time just trying to perform in a local bookstore. Lydia wants to publish a cook book and Lee is trying to perform a renovation but is plagued by a ghost.
Ginny gives them all notebooks to write down their dreams, their plans, and anything else related to reaching their goals. They also meet to discuss what is going on and encourage each other. Along the way they have different things that happen that both seems to crush their dreams. But with the group backing them and perseverance they all will reach their goals.
I loved this book. Ginny starts a small group to try and inspire others to reach for their dreams. Although the turnout is not what she expected, the group is there to support each other and make this book come together beautifully. I loved the whole ghost hunting section the best. Especially when Ginny is taking notes for her own problems.
This is a great story. It's not a typical one in the sense that you can get encouragement, hints, and tips to reach your own goals. This is a great story and I can't wait for other books from Janet DeLee.
For more information on Taking Leaps and Finding Ghosts or to purchase the book make sure to check out Amazon, Barnes and Noble, Goodreads, and Janet DeLee's Facebook page.
I received this book for free from the author in exchange for an honest review.