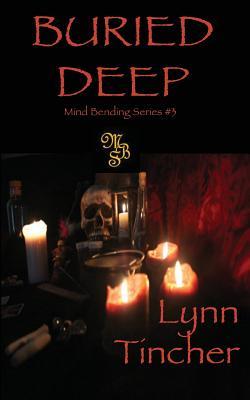 Buried Deep (Mind Bending – 3) by Lynn Tincher
5 stars
(Excerpt from Goodreads) The drama continues as Paige and Junna are summoned to New Orleans to investigate a double murder. From the moment they arrive, they find themselves in a whirlwind of death and devastation. Paige foresees the viscous murder of a beautiful young woman as she falls victim to this serial killer. Is she in time to save her? Meanwhile, Junna gives in to the dark powers that surround her in the back alleys. Is Junna in too deep and is she lost forever?
A serial killer is targeting the tourists in New Orleans and Paige, Junna, and Randy have been called in to see if they can find him. Paige is distracted and worried about Jay, their relationship, and then Momma V. When she gets a glimpse of the latest victim she can't help throwing herself into the investigation to try and save her. Junna is giving into the dark powers in the alleys that they frequent in their hunt. The question is if they are going to save the latest victim or are they going to end up in the same place. Will Junna be able to save herself or will she be consumed. What is going to happen with Paige and Jay is this going to make or break their relationship.
I love this series. They are short, intense books that just suck you in. Paige is torn between Jay and hunting for the serial killer. She loves Jay but is afraid to loose him and sets herself up for failure. I love the connection between Randy and Junna. I really hope and pray for Junna, she is walking such a fine line. I have all ready read the fourth book but I can't wait for the next one. This series is seriously addicting.
To purchase Buried Deep, or for more information on the Mind Bending series, make sure to check out Amazon, Barnes and Noble, and Goodreads.
I received Buried Deep for free from White Handed PR for free in exchange for an honest review.