I would like to introduce you to a wonderful series Moonlit by Jadie Jones. This is an amazing series, check it out.
Moonlit (Moonlit – 1) by Jadie Jones
5 stars
(Excerpt from Goodreads) Eighteen-year-old Tanzy Hightower knows horses, has grown up with them on Wildwood Farm. She also knows not to venture beyond the trees that line the pasture. Things happen out there that cannot be explained. Or undone. Worse, no one but she and the horses can see what lurks in the shadows of the woods.
When a moonlit ride turns into a terrifying chase, Tanzy is left to question everything, from the freak accident that killed her father to the very blood in her veins. Broken and confused, she turns to Lucas, a scarred, beautiful stranger, and to Vanessa, a charming new friend who has everything Tanzy doesn't.
But why do they seem to know more about her than she knows herself?
Tanzy has lost her father and has trouble with her mother. Her passion is horses and a midnight run turns her life around. After recovering from her fall she starts having visions and seeing symbols that other people don't. She is befriended by Vanessa who takes a shining to her and starts to answer Tanzy's questions. But the more she learns, the more questions she has. The question is if Tanzy is going to get her answers before something happens to her.
This was a really good book. I really liked how reincarnation played into the story. The best part was all the twists that you will run into while you read. Any questions you have will be answered at the end but it was great trying to figure out what everyone was up to. You clearly can't trust anyone. I also like how important the horses were. It has been a while since I have read a book that really focuses on horses and it was a refreshing change.
This is a great story and a fantastic start to the series. I can't wait to see what happens next in Windswept.
To purchase Moonlit make sure to check out Amazon, Barnes and Noble, and Goodreads.
I received Moonlit for free from WOW – Women on Writing in exchange for an honest review.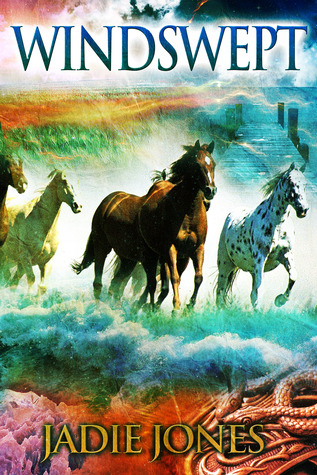 Windswept (Moonlit – 2) by Jadie Jones
5 stars
(Excerpt from Goodreads) Tanzy's journey continues in Windswept, the second installment of the Moonlit Trilogy…
Tanzy Hightower is the key in an ancient prophecy pivotal to the existence of all beings, both Seen and Unseen. Unseen who have waited a millennium for her birth are relentless in their efforts to see the prophecy fulfilled. Whether for good or evil, depending on which side of the conflict one stands. Others have sworn an oath to end Tanzy's existence, permanently.
Already, Tanzy's body has been compromised by her enemies, her veins now home to the blood of a wild horse whose instincts are becoming impossible to control. While Tanzy's Unseen enemies work to draw her out of a remote safe house, her friends beg her to stay in hiding. She is torn, wanting to reunite with Lucas, who has loved Tanzy since her first incarnation, yet unsure whether fulfilling the ancient prophecy will protect those she loves or destroy them.
There is a prophecy about Tanzy relating to the Seen and Unseen. There are those that want to help her fulfill the prophecy and those that want to kill her in any way possible. Tanzy is trying to figure out her own powers but when her blood is infected she struggles just to control her own body. Will she be able to fulfill the prophecy or are her enemies going to win.
I just love this series. Tanzy is such a strong girl and has come so far since Moonlit. I love that she has become such a bad ass character. She has a lot to fight with and there are moments that I didn't think she was going to make it. It doesn't help that although there are a lot of good characters it doesn't mean that they are really good or going to do anything other than get themselves through the trouble. The ending just made me want to rush into Wildwood to see how this series is going to end.
To purchase Windswept make sure to check out Amazon, Barnes and Noble, and Goodreads.
I received Windswept from WOW – Women on Writing in exchange for an honest review.
Wildwood (Moonlit – 3) By Jadie Jones
5 stars
(Excerpt from Goodreads) In Wildwood, the third book of the Moonlit Trilogy, Tanzy's journey races toward a final battle within the Unseen world.
Tanzy Hightower has crossed the veil and entered the Unseen world to fulfill the destiny she has at last embraced, to either seal or destroy the veil between the Seen and Unseen. She is the only mortal in a land teeming with creatures who want her dead. To stay alive long enough to stop Asher, the most powerful of the Unseen, Tanzy accepts his marriage proposal and seeks refuge inside his palace.
On the Seen side of the veil, Tanzy's allies are fragmented and lost, without leadership. They must gather forces and train an army of candidates to defend their world against unfathomable predators poised to strike should the veil holding them at bay dissolve.
While Tanzy has accepted her own inevitable death in fulfilling her destiny, her closest friends refuse to stop searching for the impossible: a way to save Tanzy's life.
Tanzy has accepted Asher's proposal and is now in Unseen territory. With Tanzy gone, the rest are very confused and don't know where to begin to train an army. But the most enlightening thing was all of the secrets that are coming out. Those secrets are going to the death of Tanzy unless her friends can find a way to save her.
This is an amazing finally to the Moonlit series. I has the impression that everyone had their own secrets and those secrets are going to change what you think about everyone. I was on the edge of my seat the through the whole book. I was also surprised by some characters and felt sorry when I learned the truth.
You HAVE to read this series. Anyone of any age will enjoy it. Make sure to go get your copy today!! I will be following Jadie Jones and looking for her other books.
To purchase Wildwood make sure to check out Amazon, Barnes and Noble, and Goodreads,
I received Wildwood for free from WOW – Women on Writing in exchange for an honest review.
Jadie Jones
Young-adult author. Equine professional. Southern gal. Especially fond of family, sunlight, and cookie dough.​​
I wrote my first book in seventh grade, filling one hundred and four pages of a black and white Mead notebook. Back then I lived for two things: horses and R.L. Stine books. Fast forward nearly twenty years, and I work with horses and hoard books like most women my age collect shoes. Its amazing how much changes… and how much stays the same.
The dream of publishing a novel has hitch-hiked with me down every other path I've taken (and there have been many.) Waitress, farm manager, road manager, bank teller, speech writer, retail, and more. But that need – the call from within to bring pen to paper – refused to quiet. Finally, in 2009, I sat down, pulled out a brand new notebook, and once again let the pictures in my head become words on paper.
​Then I got married. Moved. Life sped up the way that it does, claiming each day faster than the last. I became a mother, and my manuscript reverted to something I would do one day. Thankfully, babies take naps, and there's only so much daytime television a person can stomach. And Tanzy, that main character of mine, was shouting at me from my office: "Hellooo? We aren't done yet, Jadie." So I pulled her out. I read our story. I tore it to pieces. And then I put it back together again.
​As a child, my grandfather would sit me in his lap and weave tales about the Cherokee nation, and a girl who belonged with horses. His words painted a whole new world, and my mind would take flight. My hope – my dream – is that Tanzy's journey does the same for you.
​Confession time: Jadie Jones is not my name. It's a pen name I created to honor two fantastic women who didn't get the chance to live out their professional dreams. First, my grandmother – a mother of four during post World War II America, who wanted to be a journalist so bad that even now when she talks about it, her blue eyes mist and she lifts her chin in silent speculation. And second, a dear friend's mother who left this world entirely too soon. To Judy Dawn and Shirley Jones, Jadie Jones is for you. It's been a pleasure getting to know her.
p.s. Like the way I ramble? Be sure to visit my blog.