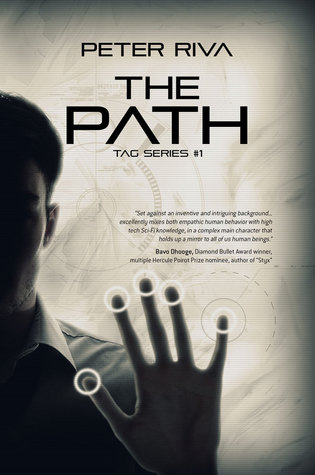 The Path
All life on earth is about to be terminated by an entity as old as the galaxy itself. To make matters worse, Simon has broken everything already.
In a future world that is run by computer systems and that is without want, how can a man find his role? Then, if the very computers he works on to try to make them more human suddenly try to kill him, revealing a secret so vast that it affects every living soul on the planet, can that man be a hero?
These are the questions that face the stumbling, comic, and certainly flawed Simon Bank. His job is to work with the System's artificial intelligence, making it fit more perfectly into human society so that it can keep the country running smoothly. But when the System threatens the peaceful world he knows, Simon suddenly must rush to save his own life, as well as the life of everyone on earth. Forced to reassess everything that he thought he knew, he is caught within circumstances way beyond his control.
Simon's only hope is to rely on intellect and instincts he didn't know he had, and on new friends, not all of them human, to change himself and all humanity. And he doesn't have much time.
Peter Riva
Peter Riva has worked for more than thirty years with the leaders in aerospace and space exploration. His daytime job for more than forty years has been as a literary agent. He resides in New York City.
My Review
4 stars
The future is a utopia. Everything is run by computers, you only work when and where you want to. There are no problems with food, health care, and anything else that makes our world difficult. But The System is not completely automated. Simon is a human that interacts with The System to make it more human. The problem is Simon interacts too well and messes everything up. This sets The System off and it decides to go that one extra step to make the world really perfect. Now it is up to Simon and Cramer, an agent of Control, to keep the system from complete collapse.
I thought that this was an interesting concept for a story. The way the world is progressing with technology I could see something like this happening. I admit that I didn't really like Simon but he clearly knew his work. I like how he goes from being the one to humanize the computer to being the number one enemy.
I admit that there is a lot of programing speak in the book. I'm sure if you have any experience with this you will understand what is going on. Unfortunately it was a down point to me. There were also some things that did catch for me when one person does them it's horrible yet when another does the same thing it is acceptable.
Over all this is a pretty good book. It has potential and reminded me of other science fiction authors that are ahead of their times. I see that it is the first in a series but it is good enough to stand alone. It's one that I would recommend to check out. You may be surprised.
To purchase The Path, or for more information, make sure to check out Amazon, Barnes and Noble, Goodreads, and Peter Riva's website.
I received The Path for free from iRead Book Tours in exchange for an honest review.