Today I am lucky to be part of the A Faerie's Revenge tour. I also was treated with the first four books in the Creepy Hollow series. Check them out!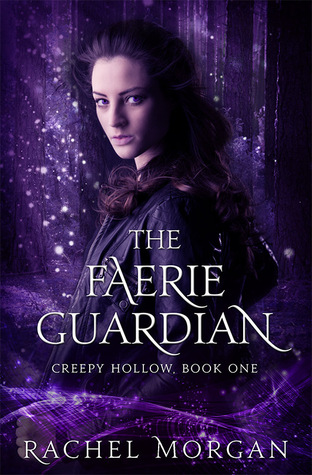 The Faerie Guardian (Creepy Hollow – 1) by Rachel Morgan
(Excerpt from Goodreads) Protecting humans from dangerous magical creatures is all in a day's work for a faerie training to be a guardian. Seventeen-year-old Violet Fairdale knows this better than anyone—she's about to become the best guardian the Guild has seen in years. That is, until a cute human boy who can somehow see through her faerie glamor follows her into the Fae realm. Now she's broken Guild Law, a crime that could lead to her expulsion.
The last thing Vi wants to do is spend any more time with the boy who got her into this mess, but the Guild requires that she return Nate to his home and make him forget everything he's discovered of the Fae realm. Easy, right? Not when you factor in evil faeries, long-lost family members, and inconvenient feelings of the romantic kind. Vi is about to find herself tangled up in a dangerous plot—and it'll take all her training to get out alive.
4 stars
Violet, Vi is a fae guardian in training. But on her last mission a human, Nate saw through her glamour and managed to follow her back to Creepy Hollow. Vi wants nothing to do with Nate but she is ordered to take him back to the human world and erase his memory. But this is not going to be a simple task. There are those that want Vi's secret power and those that were friend that are now out to get her. Both Vi and Nate are going to go on one heck of an adventure.
Vi is a 17 year old faerie in her fifth year of training. She plans on finishing at the top of her class just like her mother. Ryn seems to want to stop Vi at every turn and can be such a jerk. But I admit that I come to like him by the end of the story.
There is way more to Nate than just him being human. Although he seemed a bit plain for me, Vi just is smitten with him. I admit that I'm not one that likes the insta-love in stories or love triangles. I have to say that was one thing that bothered me was Vi and Nates romance.
Over all this is a great book. Almost everything was wrapped up by the end of the story but enough was left open to lead into the next book. If you like young adult paranormal stories, this book is one that you need to get.
I received a The Faerie Guardian for free from Refracted Light Reviews in exchange for an honest review.
Amazon     Barnes and Noble     Goodreads
The Faerie Prince (Creepy Hollow – 2) by Rachel Morgan
(Excerpt from Goodreads) Guardian trainee Violet Fairdale is just weeks away from one of the most important occasions of her life: graduation. After messing up big time by bringing a human into the fae realm, Vi needs to step up her game and forget about Nate if she hopes to graduate as the top guardian of her year. Everything would be fine if she wasn't forced to partner with Ryn, her ex-friend, ex-enemy, current 'sort of friend'. They might be trying to patch up their relationship, but does she really want to spend a week undercover with him for their final assignment? On top of that, the possibly insane Unseelie Prince is still on the loose, free to 'collect' as many specially talented faeries as he can find—and Vi is still at the top of his list. Add in faerie queens, enchanted storms, complicated not-just-friends feelings, and a murder within the Guild itself, and graduation is about to become the least of Vi's problems.
My Review
5 stars
Vi is awaiting her final assignment before graduating. Then she gets the surprise that it is a partner assignment with Ryn. Ryn and Vi start working together and repair their friendship. Then they finally admit to each other their feelings. But they can't just dwell in those feelings. They still have to finish their task, save Ryn's sister Calla from an Unseeli fae, Zell's prison. And don't forget Nate, he is still has a part to play in this story.
I have to say that I love Ryn. He is such a great character and seems almost like the perfect boyfriend. I'm so glad that Vi and Ryn are together, they are a really good couple. And Nate, all I can say is what the heck? Argh!! Then the ending was a big cliff hanger. I'm so glad that I have a copy of The Faerie War to jump right into.
The only thing that I have to whine about is that although the title is The Faerie Prince, and he is still in the background collecting fae with special powers, he doesn't really make an appearance in the story.
The Creepy Hollow series is now one of my favorite series. If you like the paranormal young adult series make sure to check this one out.
I received a The Faerie Guardian for free from Refracted Light Reviews in exchange for an honest review.
Amazon     Barnes and Noble     Goodreads
The Faerie War (Creepy Hollow – 3) by Rachel Morgan
 (Excerpt from Goodreads) Violet Fairdale is in big trouble. Her home is gone, her beloved forest lies in ruins, the guy she gave her heart to has deserted her—and she doesn't remember any of it. The powerful Lord Draven is taking over, brainwashing guardians into fighting for him. No one is safe from the evil spreading throughout the fae world.
As alliances are forged between the remaining free fae, Vi struggles to reclaim her identity and figure out where she belongs in this new world. When someone from her past shows up, life gets even more complicated. He brings with him a long-forgotten weapon and an ancient prophecy that places Vi at the center of the fight against Draven. With the future of the fae world at stake, can Vi carry out the prophecy's instructions before it's too late?
My Review
5 stars
Vi has lost her memory and has been taken in by a group of Reptiscilla. Because she lost her memory she doesn't really know what she has gotten herself into but she works to gain their trust. Ryn has been on his own mission and when he returns he learns of the destruction to Creepy Hollow. Ryn is upset when he learns about the loss of Vi's memories but he tries that much harder to rekindle her love for him. All the while the group is fighting Draven's marked and trying to save fae.
If you thought the first two books were great, sit back and wait for the real ride to start. I had a hard time with Vi drinking the forgetting potion but it was so much worse when Ryn finds her and realizes that she doesn't remember him. Then there is Nate. But there is no time for all of that. Draven is tearing Creepy Hollow and fae apart with his marked.
This is the end of the Vi and Ryn story. It was beautifully done and wrapped up well. I don't know how it's going to feel with Calla taking over the series but we will soon see. This is an amazing story that you have to read. It's got so much more action, romance, and great characters.
I received a The Faerie Guardian for free from Refracted Light Reviews in exchange for an honest review.
Amazon     Barnes and Noble     Goodreads
A Faerie's Secret (Creepy Hollow – 4) by Rachel Morgan
(Excerpt from Goodreads) Calla Larkenwood wants nothing more than to be a guardian, but her overprotective mother has never allowed it. When circumstances change and Calla finally gets to join a Guild, she discovers guardian trainee life isn't all she hoped it would be. Her classmates are distant, her mentor hates her, and keeping her Griffin Ability a secret is harder than she thought. Then an initiation game goes wrong, landing Calla with a magical ability she can't control. She needs help—and the only way she can get it is by bargaining with the guy who just discovered her biggest secret.

My Review
5 stars
Ten years has passed since The Faerie War and we now follow Calla, Ryn's sister. Calla wants to be a guardian but her parents are worried for her. She has the Griffin ability that she has a hard time controlling. It also doesn't help that those with this ability are being watched closely. When they finally consent to the guardian training Calla is involved in an incident that leaves her ability exposed and although she was supposed to be safe at the Guild it's looking like someone is out to get her. Thankfully there is Chase, who she can trust, right?
I recommend reading the first three books in the series. There is a big back story that you will be missing out on and it's good to know who Vi and Ryn are and what they went through. Calla is such a great, strong character. She was held in an unseelie dungeon when she was younger. This has led her to want to be a guardian to save others from her fate. Then there is Chase, Calla is drawn to him since he isn't affected by her ability like others. He also seems to be a great friend, something that she could use.
I can't go into any more or I'll give away the story. This is a great story to follow in the Creepy Hollow series. It feels just like I never left after The Faerie War. Make sure to pick up a copy of this series, you won't be disappointed.
I received a The Faerie Guardian for free from Refracted Light Reviews in exchange for an honest review.
Amazon     Barnes and Noble     Goodreads
The Creepy Hollow series is definitely my new favorite series. I loved A Faerie's Revenge (boook 5) and I can't wait for other books in this series. I supposed I can spend the down time looking into Rachel Morgan's other books. Check out her website.