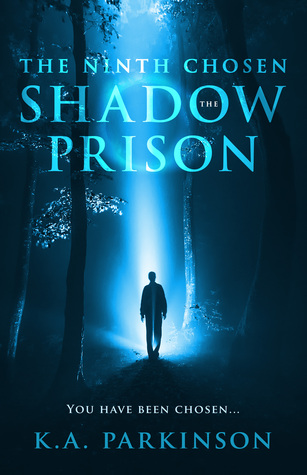 The Ninth Chosen (The Shadow Prison – 1) by K.A. Parkinson
(Excerpt from Goodreads) Sixteen-year-old Macy is not your average teenager—she's a member of the Chosen, an elite group of gifted and magically talented children responsible for protecting humans from the monsters of the Hidden race. But when the Shard of the Ninth Chosen arrives at her Watcher's door with the deadly Shadow Wraiths in hot pursuit, her world is shaken. The Ninth is to lead the Final Battle against the evil forces of the Dark. And when that Ninth turns out to be Tolen Parks, a clueless seventeen-year-old who has no idea he's anything other than a freak, she figures the world is a gonner. The two of them are swept down a dangerous path that tests everything that Macy is . . . and brings out everything that Tolen can be. Amidst monsters and Radia Warriors, the pair must discover who they really are and face the heart of darkness in order to find victory . . . and their destinies.
My Review
4 stars
In our world, there is a battle between Light and Darkness. It is almost time to choose the last person of power for the end battle. We start the story with Macy, a teenage girl with powers and her Watcher, Bastian. The creatures of the dark have found them and are coming with the intent to kill. But just before they strike, Bastian tells Macy that the ninth person has been chosen and they have to find him. Barely escaping, they go on the hunt for Tolen Parks.
Tolan has a special background and amazing powers that he knows nothing about. His mother has been shielding him and has now gotten run down enough to not be able to protect him by herself. Bastain and Macy come to introduce him to his heritage. But it's not going to be a happy gathering. The agents of the Dark are intent on capturing Tolen for their side of the war. Now it's up to Macy and Bastian to keep him safe and get him trained for war.
I loved this book. There was great action and a well thought out story. I loved how everything was explained, as Tolen learned so did you plus the index in back was a help. Tolen thinks he is nothing more than the town freak then learns there is more to him than he thought. Macy was a bit of a pain but as you went along you could understand why.
If you like the paranormal, thriller young adult books you will love this book. I can't wait to see what happens next in Keeper of the Last.
To purchase The Ninth Chosen: The Shadow Prison, or for more information, make sure to check out Amazon, Barnes and Noble, Goodreads, and K.A. Parkinson's website.
I received The Ninth Chosen: The Shadow Prison for free from Kathy at I Am A Reader in exchange for an honest review.