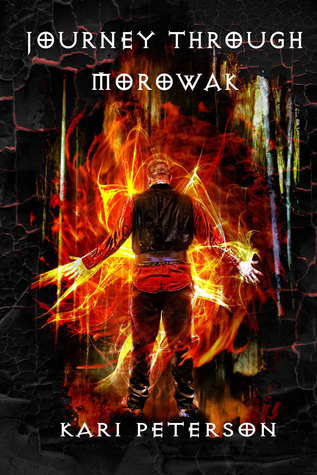 Journey Through Morowak by Kari Peterson
(Excerpt from Goodreads) An adventure. A crusade. A powerful fated love.
It is medieval times in the land of Morowak. Kings and Queens maintain sovereignty, and wielders of magic and fire breathing dragons are real. Nobleman's daughter, Arabella Wallington, is about to embark on a journey across the kingdom to meet her betrothed. Stengar McKinnon is a titled soldier in the King's army and she is assured a life of wealth and bliss. Arabella is herself a gifted war maiden, yet she follows her father's orders and employs someone to protect her along the perilous crossing. She chooses a man named Briol, whose magical abilities are tested throughout their adventure, and an enigmatic bond forms between them. Briol realizes there is something unique about Arabella, and it is brought to light. A new unforeseen path now lies ahead. This journey challenges everything Arabella has ever known.
Will she find her betrothed?
Will she follow her heart?
Or will she embrace her destiny?
Kari Peterson
 I am not your average gal.  I didn't grow up playing with Barbies or dressing in my mother's clothes, jewelry or makeup.  I drove my matchbox cars over obstacle courses, climbed trees, built forts, dreamt of owning my own horse, and pretended to be an elven princess.  I continued to live my life on my terms, while staying true to my old fashioned values and respect.  After completing high school, I took on a full-time job and put myself through college.  In just under three years, I earned a degree in computers.  I try to use that knowledge as often as I can.
In 2006, before I had even discovered my passion for writing, I married a wonderful man named Mark.  Our love story is blissfully unique.  We now live in Washington State with our three rambunctious boys, a beautiful chocolate lab, a bouncy min pin, and a tubby tailless kitty.  I am as passionate about my books as I am of my family.  This is exactly where I'm supposed to be right now.
Excerpt
She looked at him with a storm brewing behind her eyes.  She turned away before he could see the tears beginning to form.  He had made himself vulnerable telling her the piece of his past; she could do the same with a piece of her future.  "I go to Dragon Crest to meet my betrothed.  He is in the King's army, and it is of my father's arrangement that we are to wed."
It was as though she told of her own death.  "And yet, it sounds as though you do not wish to marry him."
"No, I do not.  I know that once I am his wife, I will no longer be able to continue what I have fought for these last few years.  Like I mentioned before, I cannot have both.  What I want is to continue fighting for the cause, but I cannot defy my father.  It would be as if I defied the King himself, and I will not do so.  I have given my word and must now honor it."  A tear rolled silently down her cheek.
Briol knew then Arabella was to be a part of his life.  As what, he could not yet tell.  All he knew was that he had grown to care for her and he would forever be her confidant.  "But you deserve to have both, m'lady.  If you do not wish to marry this man, then do not marry him.  Perhaps your father would understand if you tell him how unhappy it would make you. But do not lay down your bow.  I dare say you will lose your fire entirely should you give up your life's work."
Arabella stopped her horse.  "And do you truly believe a proud warrior of the King would tolerate having a war maiden for a wife?  Do you think he would stand in our doorway awaiting my arrival and rejoice each time I return home from protecting the kingdom when he was home training with his men?  It is supposed to be him taking the lead while I dotingly wait for him.  There is no resolution to this, Briol.  I have fought my father for a year now.  He will not see the day where I give up the marriage to a worthy man to fight alongside him.  I have no choice."  She kicked her horse and they continued on.
My Review
5 stars
Arabella is a war maiden and knows how to fight. But she is ordered by her father to travel to her betrothed. Although she should have gone with an army of guards, Arabella choses to take a mage, Briol to protect her. Along the way they get into many different situations and start learning more about themselves and the other person. When both Arabella and Briol arrive to their destination, they have learned so much about each other and this marriage may not go as planned.
I loved this book. Arabella is such a strong character. I find it confusing how she just agrees to go to her marriage since she is such an independent woman. I loved Briol and watching how these two interact and grow closer the more they learn about themselves. I admit that I was on pins and needles at the end. There is so much going on that I couldn't get to the end fast enough and was left wanting more.
To purchase Journey Through Morowak, or for more information make sure to check out Barnes and Noble, Smashwords, Goodreads, and Kari Peterson's website.
This is a great story full of action and romance. They meet many interesting people along the way and make some great friends. I loved the book and can't wait for more books from Kari Peterson.
I received this book for free from Reading Addiction Book Tours in exchange for an honest review.