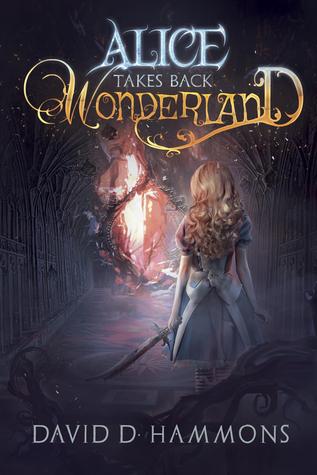 Alice Takes Back Wonderland by David D. Hammons
(Excerpt from Goodreads) After ten years of being told she can't tell the difference between real life and a fairy tale, Alice finally stops believing in Wonderland. So when the White Rabbit shows up at her house, Alice thinks she's going crazy.
Only when the White Rabbit kicks her down the rabbit hole does Alice realize that the magical land she visited as a child is real.
But all is not well in Wonderland.
The Ace of Spades has taken over Wonderland and is systematically dismantling all that makes it wonderful. Plain is replacing wondrous, logical is replacing magical, and reason is destroying madness. Alice decides she must help the Mad Hatter and all those fighting to keep Wonderland wonderful.
But how can she face such danger when she is just a girl?
Alice must journey across the stars to unite an army. She discovers that fairy tales are real in the magical world beyond the rabbit hole. But they are not the fairy tales she knows.
Fairy tales have dangers and adventures of their own, and Alice must overcome the trials of these old stories if she wants to unite the lands against Ace.
With the help of Peter Pan, Pinocchio, Snow White and heroes old and new, Alice may have the strength to take back Wonderland.
My Review
5 stars
We start with 7 year old Alice finding herself in Wonderland. Although it is a short visit, she cannot seem to get Wonderland out of her head. It has taken 10 years of different people and doctors teller her that this is all made up. After years of seeing everyone under the sun, being moved to another school, and being drugged, Alice has come to terms that Wonderland doesn't exist. Then the white rabbit appears and takes her back to Wonderland.
Unfortunately Wonderland is no more. The Ace of Spades has taken over and has decided to remove all magic and wonder from everything. Basically he wants to make another world just like ours. Alice is given the task to save Wonderland and all of the fairytales.
I love anything Wonderland so I jumped at the opportunity to review this book. This is not your traditional Alice in Wonderland. Alice comes from our time in Missouri. I find it heartbreaking how she just kept being told that Wonderland is not real, seeing all those doctors and such, and finally being drugged into a zombie. Although I also admit that her nonsense did get a bit overwhelming at times.
The fairytales were a great addition to the Wonderland story. They just fit in perfectly when you think about it. I love the adventures Alice goes on in trying to save all of the lands. I admit that the Cheshire Cat is my favorite character and it makes you wonder about what he is really seeing.
If you love Alice in Wonderland or just fairytales, you will love this book. Think of Once Upon a Time and you are right there. I strongly recommend you read this book. As for me, I will be keeping my eyes open for other books by David Hammons.
To purchase Alice Takes Back Wonderland, or for more information, make sure to check out Amazon, Barnes and Noble, and Goodreads.
I received this book for free from Curiosity Quills in exchange for an honest review.