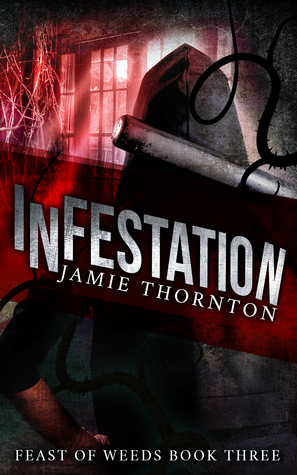 Infestation (Feast of Weeds – 3) by Jamie Thornton
(Excerpt from Goodreads) STAY ALIVE. DON'T GET CAUGHT.
For sixteen-year-old Gabbi, life on the street isn't much different after a virus sweeps away civilization: watch your back, do anything to survive, protect your friends.
But Gabbi's friends are imprisoned at a refugee camp. Any move she makes risks getting them killed. Gabbi will do everything to keep her friends alive, but what if everything isn't enough?
The stakes are bigger than Gabbi could imagine, pitting Feeb against Feeb, with uninfected and Vs against them all. If Gabbi doesn't outsmart everyone, she'll get her and her friends caught—again.
This time they won't all make it out alive.
My Review
5 stars
Gabbi is a tough street kid and nothing has really changed for her. Stay alive, keep your friends safe, and avoid the V's and the humans hunting down other humans. But with Gabbi's friends being held captive her desire to free them could get them killed. She is determined to free them but that might cause more problems. The question is if they will make it to safe haven, if there is even such a thing.
Gabby is a really tough character to like. I can understand why she is so hard but it doesn't make it any easy to like her. But she is bound and determined to get everyone, or as many as possible to freedom. I loved the new characters you meet and can't wait to see how they play out in the next book. And it is sad but not everyone is going to make it through this book. Although there are some of my favorite characters you can't have a great apocalyptic story without someone biting the big one.
This is a great continuation to an awesome series. I love where Jamie Thornton is taking the story. I can't believe that there is only one more book for the series. I guess I'm going to have to start on the other books Jamie Thornton's written.
To purchase Infestation, or for more information on this series, make sure to check out Amazon, Barnes and Noble, Goodreads, and Jamie Thornton's website.
I received Infestation for free from the author in exchange for an honest review.