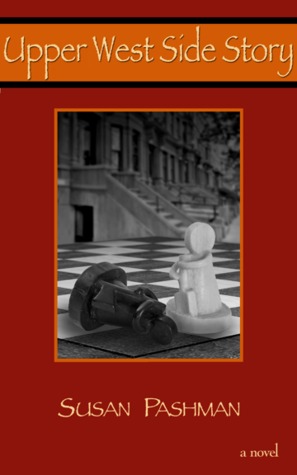 Upper West Side Story by Susan Pashman
(Excerpt from Goodreads) Upper West Side Story is a tale of friendships between people of different races.
The narrator, Bettina Grosjean, is a professor of Women's History, and her husband, a high-ranking environmental policymaker in the New York City mayor's office. Once a pair of student radicals, they are now raising their two brainy children on New York's Upper West Side.
Their fierce parental love is tested in a startling eruption of racial hostility and political chicanery within the very community they have long loved and helped to build. Their world is suddenly thrown into crisis by a shocking and tragic event: During a school field trip, their son Max and his best friend, Cyrus, are horsing around when, in a freak accident, Cyrus falls down a flight of stairs, and dies a few days later.
The fact that Cyrus is black, that his mother is Bettina's closest friend–that jealousy, suspicion and resentment have long been simmering in the community, and that there are powerful political forces at work as well–all conspire to reveal an ugly underbelly of the community the Grosjeans have worked so hard to shape into a model of an enlightened, multiracial world.
Upper West Side Story portrays a remarkable multi-racial friendship, the love of two women united by their ideals and their devotion to their children, then divided by events that spiral out of control.
With cries for racial justice again rising up all over our country, Upper West Side Story is a story you will want to read.
My Review
5 stars
Bettina and Stephen Grosjean have two kids, 13 year old Max and 9 year old Nellie. Both have high pressure jobs that look at the world from almost opposing sides. This has strained their marriage. Max is on a field trip and accidently pushes his best friend, Cyrus down some stairs. Cyrus is rushed to the hospital and initially the event is figured to be an accident by the police. But when Cyrus dies the fact that he is black makes everyone believe this is a racially fueled, intentional incident. Max finds himself in juvenile detention and Bettina and Stephen find themselves fighting for their child.
With the current events in our country today this is a great story to go along with them. Max and Cyrus are best friends and this is clearly a horrible accident. But once the media and everyone else learns that Cyrus is black they instantly turn it into a racial issue. I loved how Bettina and Stephen come together to fight this charge. I really liked how both mothers where there for their kids too.
This story is well told with a lot of truths in it. The characters are beautifully described and it broke my heart to follow along with Bettina. The story is told from Bettina's perspective and journal entries from Max. I really liked that even though this is all happening, Bettina still struggles to keep her friendship with Cyrus' mother. But even better is Stephen, he is wrapped up in the political view of Cyrus' death. Usually you see politicians folding for the popular vote. I loved how he stuck to his guns, fought for his marriage, and was still there for his son.
This is a great story that really fits with present day situations. I think everyone should read this book.
To purchase Upper West Side Story make sure to visit Amazon, Barnes and Noble, Goodreads, and Susan Pashman's website.
I received a copy of Upper West Side Story for free from the author in exchange for an honest review.