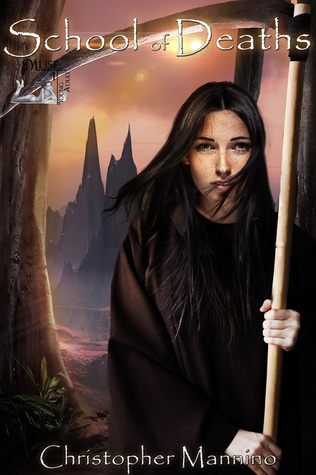 School of Deaths (The Scythe Wielder's Secret – 1) by Christopher Mannino
(Excerpt from Goodreads) Thrust into a world of men, can a timid girl find bravery as the first female Death?
Thirteen-year-old Suzie Sarnio always believed the Grim Reaper was a fairy tale image of a skeleton with a scythe. Now, forced to enter the College of Deaths, she finds herself training to bring souls from the Living World to the Hereafter. The task is demanding enough, but as the only female in the all-male College, she quickly becomes a target. Attacked by both classmates and strangers, Suzie is alone in a world where even her teachers want her to fail.
Scythes hungry for souls, Deaths who subjugate a race of mysterious magicians, and echoes of an ancient war with Dragons.
As her year progresses, Suzie suspects her presence isn't an accident. She uncovers a plot to overthrow the World of Deaths. Now she must also discover the reason she's been brought there: the first female Death in a million years.
My Review
5 stars
Suzie is having a tough time, she is starting to get thinner and thinner. She is losing weight and no one can figure out why or even stop it. Then someone approaches her and tells her that she is Death and takes her to the Land of the Dead to go to school and learn how to be Death. The problem is that there has not been a female Death in a million years, the last one betrayed the Reapers. Of course Suzie is going to be the main target for bullies and any things that goes wrong will be blamed on her. Her only chance to get out is to pass the test at the end of the year, the same test that most people fail.
When I first read the description I was curious. There has to be more going on than just that quick blurb and trust me there is so much happening. Suzie is much more than your typical 13 year old. She is a lot more mature and I think that helps her deal with everything she does. I loved how Mannino discussed all kinds of topics from bullies, self-image, friends, and everything else that kids go through that tends to get over looked.
The pace of the book is rather fast but there is a lot of ground to cover. This did leave me a little lost a couple times. I also admit that the story was a little slow to get moving. But I loved all the description and detail that goes into the grim reapers. It was hard for me to put School of Deaths down and after I finished it I was left wanting more. Thankfully Sword of Deaths is out and I could start reading it.
If you like young adult stories with fantasy this is one series that I recommend you check out. You will not be disappointed.
To purchase School of Deaths make sure to check out Amazon, Barnes and Noble, Goodreads, and Christopher Mannino's website.
I received School of Deaths for free from Kathy at I Am A Reader in exchange for an honest review.