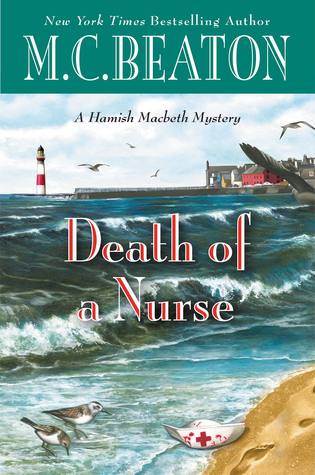 Death of a Nurse (Hamish Macbeth – 31) by MC Beaton
(Excerpt from Goodreads) James Harrison has recently moved to a restored hunting lodge in Sutherland with his gorgeous private nurse Gloria Dainty. When Hamish visits Mr. Harrison to welcome him to the neighborhood, the old man treats him very rudely. Gloria apologizes for her employer's behavior, and Hamish takes the plunge and invites her out for dinner. On the appointed evening, Hamish waits for Gloria at the restaurant. And waits. Gloria never shows up. Four days later, Gloria's body washes up on the beach near Braikie. Now without a date and without his former policeman Dick Fraser (who left the force to buy a bakery), Hamish must find out who killed the beautiful new resident of Sutherland, and why, before the murderer strikes again….
My Review
4 stars
Hamish Macbeth works as a police sergeant in the small village of Lochdubh in the Scottish Highlands. He is a little lazy, doesn't want to leave his little town, an interested in the new nurse in town. He asks Gloria Dainty out on a date but she never shows. Then a couple days later her body is found. It's now up to Hamish to figure out who killed Gloria without the help of a new constable that is more of a bumbling klutz.
I have seen several of MC Beaton's books but have yet to have read any, although I do have them on my list. Or course I jumped at the chance to review Death of a Nurse, who wouldn't. Hamish is a clever man yet he has a bit of a lazy streak and no luck with the ladies. And when he finally has a chance at a date she ends up dead. It is up to him and his bumbling partner.
This is a great cozy mystery. I didn't really know who did it until the end and I had a hard time putting the book down. Although it is part of a series this book could be a stand-alone. Now I'm going to go back and catch up on this series from the beginning.
To purchase Death of a Nurse make sure to check out Amazon, Barnes and Noble, Goodreads, and MC Beaton's website.
I received Death of a Nurse for free from the publisher in exchange for an honest review.