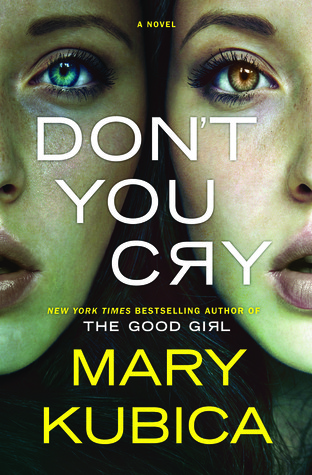 Don't You Cry by Mary Kubica
(Expert from Goodreads) In downtown Chicago, a young woman named Esther Vaughan disappears from her apartment without a trace. A haunting letter addressed to My Dearest is found among her possessions, leaving her friend and roommate Quinn Collins to wonder where Esther is and whether or not she's the person Quinn thought she knew.
Meanwhile, in a small Michigan harbor town an hour outside Chicago, a mysterious woman appears in the quiet coffee shop where eighteen-year-old Alex Gallo works as a dishwasher. He is immediately drawn to her charm and beauty, but what starts as an innocent crush quickly spirals into something far more dark and sinister than he ever expected.
As Quinn searches for answers about Esther, and Alex is drawn further under Pearl's spell, master of suspense Mary Kubica takes readers on a taut and twisted thrill ride that builds to a stunning conclusion and shows that no matter how fast and far we run, the past always catches up with us in the end.
My Review
4 stars
We start the story in Chicago and narrated by Quinn. She finds that her roommate has disappeared and starts going through her stuff to try and figure out where she has gone. The more of the stuff she goes through the more she learns that her roommate had lots of secrets and is nto the person Quinn thought she was.
We alternate between view points to Alex, a young man in a small town in Michigan. He is a dishwasher and he talks about things that he sees happening in his small town. There is a new girl in town, Pearl, that he has noticed and he talks a lot about her.
Don't let the quick summary of the book ruin your thoughts about this book It's hard to give too many details without giving away the story. I have to say that the two view-points of the book always seemed to switch right when you are getting into one and don't want to change. Both are good stories that are very suspenseful and seem to not relate in anyway yet intersect at the end of the book in a quite surprising way.
I couldn't seem to figure out where the stories were going and I admit that there were several times the switches in points of view were frustrating, but perfect where you just get into the one side of the story. I had no idea how these two related and I was completely blown away by the ending. I was kept on my toes throughout the entire story.
This is a great story that will keep you guessing through the while book. Nothing is as it seems on the surface. Be prepared to get sucked into the story and not get off the roller coaster until the final mind bending loop.
To purchase Don't You Cry make sure to check out Amazon, Barnes and Noble, Goodreads, and Mary Kubica's website.
I received Don't You Cry for free from Mira in exchange for an honest review.