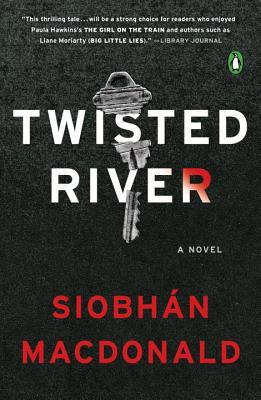 Twisted River by Siobhan MacDonald
(Excerpt from Goodreads) A gripping debut psychological thriller for fans of The Silent Wife and The Wicked Girls about two families in crisis and a holiday house swap gone terribly wrong
"She would never have fit as neatly into the trunk of his own car." Limerick, Ireland: the O'Brien family's driveway. American Oscar Harvey opens the trunk of his hosts' car and finds the body of a woman, beaten and bloody. But let's start at the beginning.
Kate and Mannix O'Brien live by Curragower Falls in Limerick, in a lovely house they can barely afford. Their autistic son Fergus is bullied at school, and their daughter Izzy blames herself, wishing she could protect him. Kate decides that her family needs a vacation, and is convinced her luck's about to change when she spots a gorgeous Manhattan apartment on a home-exchange website.
Hazel and Oscar Harvey and their two children live on Manhattan's Upper West Side. Though they seem successful and happy, Hazel has mysterious bruises, and Oscar is hiding things about his dental practice. They, too, need a change of pace. Hazel has always wanted her children to see her native Limerick, and the house swap offers a perfect chance to soothe two troubled marriages. But this will be anything but a perfect vacation. And the body in the trunk is just the beginning.
My Review
4 stars
Kate and Mannix O'Brien live in Limerick, Ireland. Their family is under pressure with their autistic son being bullied and their daughter trying to help him and being mad at her parents for not doing anything. At the same time there is Hazel and Oscar Harvey in Manhattan. They need a vacation too so they list their house on a house swap website for a vacation. When Hazel see's Kate's house she is very excited since she wants to show her kids where she grew up. But like every family, although they may look happy and perfect on the outside the inside can be total different. Add in a little murder and the happy vacation will be short lived.
I liked this mystery, especially when you start the book about a woman not fitting into a trunk. This story does have the typical cheating husband, abusive spouse, and the spouse that won't leave. Throw in a murder and you have a great story.
I admit that I didn't really expect who the killer was, there were a couple clues that I thought I found but they were red herrings. My only complaint was that the ending fell a little flat for me. Beyond that I really liked this book. If you like good mysteries I think you should check out this book. As for me, I'm going to be keeping an eye out for other books by Siobhan MacDonald
To purchase Twisted River make sure to check out Amazon, Barnes and Noble, and Goodreads.
I received Twisted River for free from the publisher in exchange for an honest review.