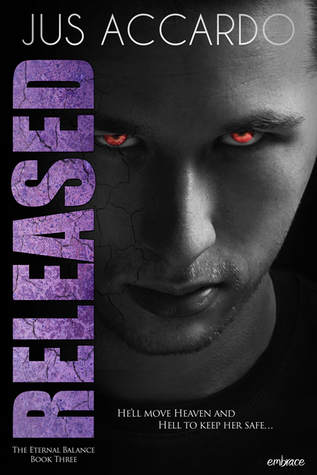 Released (The Eternal Balance – 3) by Jus Accardo
(Excerpt from Goodreads) Jax Flynn's life just went from bad to worse. He was already sharing his body with a demon named Azirak, but after killing its mate… Well, shit got real. Now the demon has taken control of Jax's body and everything he cares for is at stake, including Samantha, the girl he loves. Yeah, that's not going to happen. It's time Jax showed everyone what he was really made of.
Jus Accardo
JUS ACCARDO spent her childhood reading and learning to cook. Determined to follow in her grandfather's footsteps as a chef, she applied and was accepted to the Culinary Institute of America. But at the last minute, she realized her true path lay with fiction, not food.
Jus is the bestselling author of the popular Denazen series from Entangled publishing, as well as the Darker Agency series, and the New Adult series, The Eternal Balance. A native New Yorker, she lives in the middle of nowhere with her husband, three dogs, and sometimes guard bear, Oswald.
Excerpt
"We need to get something straight," Sam said, changing lanes to pass the car in front of us. "That shit you pulled back at Kelly's? That can't happen again." Irritation surged in Azi, but more than that, confusion. It genuinely didn't understand what she was pissed about. "You chastise me for protecting you?"
"Damn right," she snapped. "Because no matter what you say, that's Jax's body you're temporarily squatting in. He has to live with the fallout after I find a way to evict your ass. Besides, that's not what that was all about anyway."
"Oh?" The demon's irritation turned to amusement. It didn't bother correcting her on the temporarily bit. Azi had me locked down tight and wasn't the least bit concerned about her—or me—turning the tables. And even though I had complete faith in Sam—if there was a way to fix this, she'd find it—even I had to admit I was pretty much fucked.
"You're the equivalent of a demonic spoiled brat. Any time you don't get what you want, you throw a fit. That doesn't work in this world, buddy. You need a little more self-control if you want to pretend to be a real boy."
I worried the demon's temper would flare, but instead of anger, I felt a swell of admiration from it. "You know what I am," Azi said. It shifted around in the seat so that I was facing her. "You know what I am capable of. And yet you still speak to me as you would a lowly human?"
"Lowly human?" She shook her head and stomped on the gas. Kelly's Explorer surged forward. I cringed internally. I'd seen Sam drive angry. It wasn't a pretty sight. "No, no. You're totally misunderstanding me. I'm speaking to you as I would an asshat."
My Review
5 stars
Jax is sharing his body with the demon Azirak. But Az is mad at Jax for killing his mate and has taken control of Jax's body. Jax is watching everything happen but has no way to do anything. And the longer that Az is in control the less Jax will be until he disappears. Both Az and Jaz love Sam and I like how Az lets Jax and Sam be together before disappears.
I have not read the other books in this series and I think that would make a difference. But I did catch on to the story and couldn't turn pages fast enough to find out what happens next. I felt for Sam. Here is hates Az but sees how in his way he loves her too and plans to keep her safe. Jax is trying everything to keep from disappearing and even fights against the control of Az. It's heartbreaking to watch Jax and Sam together when Az releases control for a little bit.
This is a great story with lots of action and emotion. Az may be a demon but he clearly is a difference class of demon. I think this is a great story and now I want to read the other books in the series to find out what happened.
To purchase Released make sure to check out Amazon, Barnes and Noble, Goodreads, and Jus Accardo's website.
I received Released for free from Reading Addiction Virtual Book Tours in exchange for an honest review.