The War of Words by Amy Neftzger
Sometimes there's no better way to understand reality than through fantasy, and the best way to find truth may be in a book – if you can find the right one.
Battles against darkness, a quest for truth, and a search for the book that no one can read are all part of the fantasy adventure in The War of Words. As an evil sorcerer wages war by using mysterious shadows and seeks to gain control by confusing the residents as to what's real and what isn't, the fate of the kingdom rests in the hands of Kelsey and Nicholas.
As the youngest officer in the king's army, Kelsey fights the evil sorcerer s shadows on the battlefield as she explores the kingdom searching for the key to winning the war. Nicholas, a young sorcerer in training who is mastering his craft, discovers how the right words can change the course of the future.
Explore an enchanted maze, uncover the power of words, and learn about friendship in this whimsical tale.
​Buy the book:   Amazon   Barnes & Noble   Book Depository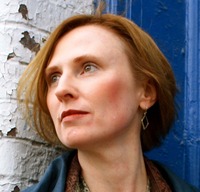 Amy Neftzger
Author's Bio:
Amy Neftzger is the author of fiction books for both adults and children. She has also been published in business and academic journals, as well as literary publications.
A few of her favorite things include traveling, books, movies, art, the Oxford comma, and gargoyles.
Connect with the author:  Website   Twitter   Facebook
Author's Interview
Which one of your characters was the easiest to write?
Newton was by far the easiest. Newton is a real gargoyle that lives and travels with me and has developed quite a personality. I think his character was fully formed before my teenage son suggested that I put Newton in one of my books. Note to parents: Newton is several hundred years old and has a rock solid constitution, so if you visit his FaceBook page you'll notice that he sometimes drinks a lot of wine with no ill effects. From that standpoint, he may not be a great role model for children.
Do you write every day?
Yes, at least an hour every day and on some days I write for several hours because I'm working on a deadline or special project for a journal. On those days I try to break up the writing so that I'm not sitting too long at one time. I try to get some exercise every two hours, because I find that it keeps my mind fresh.
What do you do about writer's block?
I don't really get writer's block because I always have several projects going on at once. If I'm not sure how I want to work out a particular scene, I will often change projects and focus on something else for awhile. I find that these things work themselves out when I try to ignore them. I often change between fiction and nonfiction projects, also. I don't know if staring at the same thing too long may cause tunnel vision, but I've haven't bothered to find out.
How long have you been writing?
I have been writing since I was in the second grade. I won a poetry contest when I was in the third grade (note: you may be relieved to know that I no longer write poetry). My first fiction book was published in 2003, but I had published nonfiction before then.
Why do you write fantasy?
Because I love it. I often think that fiction and fantasy reveal truths that we can't always see with the naked eye. It's like those stars that disappear when you look directly at them, but as soon as you look just to the right or the left you can see them clearly. I think that fantasy is one of the best ways to understand reality.
My Review
4 stars
The kingdom has a spell of darkness on it. It makes people forget so most doesn't even realize they are at war. Kelsey is the youngest officer in the army and knows she has seen shadow people although no one else has. Others are also working together to try and stop the sorcerer and his shadow army. From a young sorcerer to even a gargoyle they are learning about words and how important they can be.
This is a great story for mid-grade readers. Kelsey is a strong character that fights for what she knows is right. I admit that Newton is my favorite character. But this books has a wide variety of characters for all readers. But the part I liked the best was how the kids learn morals while learning about words and how important they are depending on different uses.
My only complaint was this is the third book in a series and I didn't realize that. I was not completely lost not having read the other two books but I do feel that it would have made the characters more familiar going into this book. Having said that I did really enjoy reading War f Words.
This is a great story for kids to adults. I really liked it and will be checking out the other two books in the series.
I received War of Words for free from iRead Book Tours in exchange for an honest review.
Giveaway
Prizes: ​
Win 1 of 5 print copies (USA) / 1 of 5 ebooks (international)
1 of 2 $25 Amazon gift cards (international) (12 winners)
12 prizes in all!