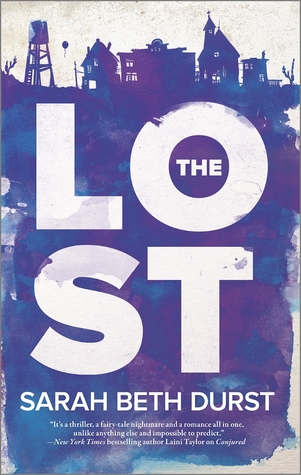 The Lost by Sarah Beth Durst
(Excerpt from Goodreads) It was only meant to be a brief detour. But then Lauren finds herself trapped in a town called Lost on the edge of a desert, filled with things abandoned, broken and thrown away. And when she tries to escape, impassable dust storms and something unexplainable lead her back to Lost again and again. The residents she meets there tell her she's going to have to figure out just what she's missing–and what she's running from–before she can leave. So now Lauren's on a new search for a purpose and a destiny. And maybe, just maybe, she'll be found…
Against the backdrop of this desolate and mystical town, Sarah Beth Durst writes an arresting, fantastical novel of one woman's impossible journey…and her quest to find her fate.
My Review
4 stars
Lauren is not one for impulse, sticking to what she knows needs to be done. But with her mother dying from cancer she cannot take it any longer, she gets in her car and just drives. She finds herself in the middle of a small town that has seen better days. She decides to stay the night and return to her life in the morning. But then she finds that she cannot leave. She is in Lost along with other people and things that have been lost.
There are a variety of people, strange children, and random luggage that are scattered throughout the town. But then the town's people turns on her. The Missing Man has disappeared and they blame Lauren for it. But when Claire and Peter come to her aid it looks like Lauren may have found a place for herself. She may have a reason to stay in Lost.
At first I didn't like Lauren, she just bothered me. But the more you learn about her, you can't help feeling for her. I mean we all have times and events that it's hard to deal with and you just want to escape. I have to say that I didn't like most of the people in Lost. I couldn't help but feel bad for the kids but you can tell their time in Lost has corrupted them.
This is a good story. It is a little slow so you do have to work through it as Lauren does. But it is one that I would recommend you read it.
To purchase The Lost make sure to check out Amazon, Barnes and Noble, Goodreads, and Sarah Beth Durst's website.
I received The Lost a long time ago for free in exchange for an honest review.