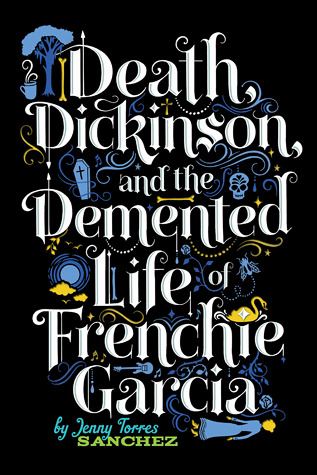 Death, Dickinson, and the Demented Life of Frenchie Garcia by Jenny Torres Sanchez
(Excerpt from Goodreads)  Frenchie Garcia can't come to grips with the death of Andy Cooper. Her friends didn't know she had a crush him. And they don't know she was the last person with him before he committed suicide. But Frenchie's biggest concern is how she blindly helped him die that night.
Frenchie's already insane obsession with death and Emily Dickinson won't help her understand the role she played during Andy's "one night of adventure." But when she meets Colin, she may have found the perfect opportunity to recreate that night. While exploring the emotional depth of loss and transition to adulthood, Sanchez's sharp humor and clever observations bring forth a richly developed voice.
My Review
5 Stars
We start this story with Frenchie grieving about a boy down the street that committed suicide. No one really knows much about her and what her connection to Andy was. Frenchie is in a dark place with her grief. But Colin sees through her dark demeanor and starts spending more time with her. Frenchie starts opening up to Colin and he finds out that Frenchie has had a crush on Andy for years and that she was the last person with him on the night that he committed suicide.
Frenchie reminds me of myself when I was in high school. She is artistic, dark, and sarcastic and I just loved her. Here she is suffering with grief from Andy's death and not knowing what she can do to get through it. Then there is Colin, he sees through this shell that Frenchie has created and wants to be with her. At the same time we learn about what Frenchie and Andy did on his last night as she starts to reveal it to Colin.
This is a great story for both young adults and adults. I loved how Frenchie worked through her grief. I couldn't help love Frenchie and I think she has left a part of her in me. Make sure to get a copy of this book, you will not be disappointed.
To purchase Death, Dickinson, and the Demented Life of Frenchie make sure to check out Amazon, Barnes and Noble, Goodreads and Jenny Torres Sanchez's website.
I received Death, Dickinson, and the Demented Life of Frenchie Garcia for free, a long time ago, in exchange for an honest review.