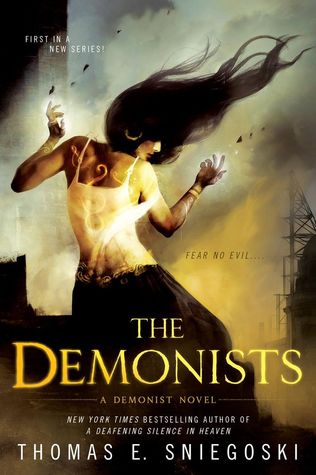 The Demonists (Demonist – 1) by Thomas Sniegoski
(Excerpt from Goodreads) There is more to our world than meets the eye—darker things, crueler things. Exorcist John Fogg and his wife, psychic medium Theodora Knight, know what lurks in the shadows. But even they're not prepared for the worst Hell has to offer…
It was supposed to be a simple exorcism, a publicity stunt to firmly establish John and Theodora's thriving paranormal investigation empire in the public eye. But something went wrong, leading to an on-air massacre that unleashed a malicious host of demons and left Theodora catatonic, possessed by countless spirits.
John sets out on a desperate quest to find a cure for his wife, but his obsession brings him face-to-face with an even more terrifying problem: Theodora's possession is only one piece of a deadly plot that is threatening the entire world. Because an ancient evil is about to make Earth its battlefield—and without John and Theodora's intervention, there is no chance for salvation…
My Review
5 stars
John Fogg is a paranormal star and at a talk about his book he meets his wife Theodora Knight, a psychic medium. Fast forward nine year. John and Theo are on a live Halloween special as they explore a haunted house. Things are not adding up with no sign of activity until they are drawn to the basement went a thousand demons burst out of a prison killing several of their crew. Theo manages to save everyone and absorbs them.
John is fanatic about trying to find a way to save Theo when he meets Elijah and the Coalition. John agrees that for the Coalitions help he will work for them. As Theo starts to work with the demons locked within her, FBI agent Brenna Isabel is trying to find out who is kidnapping children and leaving strange symbols behind. She turns to John and eventually learns there is a lot more happening than just the children being taken.
This is an amazing story. John has a background in the paranormal and when he meets Theo, with the help of Nana, you can tell it is the perfect match. When Theo takes all the demons in herself to save everyone, you could just see John's heart break with her suffering. But I loved learning about the Coalition and how John is now part of it. They mystery of why the kids have been kidnapped was great and scary. And I just loved Brenna. She has gone through so much but the ending is perfect as she finds herself in the perfect place for her.
The Demonists was hard to put down and now I wish the next book in the series was out. I have love Thomas Sniegoski since reading A Kiss Before the Apocalypse. He is an amazing author and one that I recommend to everyone.
To purchase The Demonists make sure to visit Amazon, Goodreads, and Thomas Sniegoski's website.
I received The Demonists for free from the publisher in exchange for an honest review.