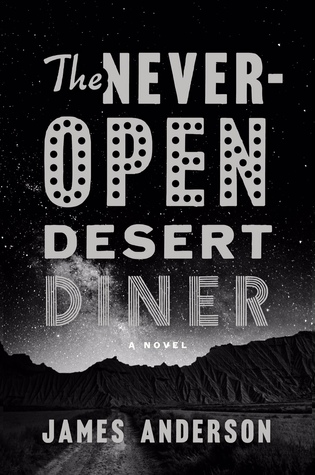 The Never Open Desert Diner by James Anderson
(Excerpt from Goodreads) A singularly compelling debut novel, about a desert where people go to escape their past, and a truck driver who finds himself at risk when he falls in love with a mysterious woman.
Ben Jones lives a quiet, hardscrabble life, working as a trucker on Route 117, a little-traveled road in a remote region of the Utah desert which serves as a haven for fugitives and others looking to hide from the world. For many of the desert's inhabitants, Ben's visits are their only contact with the outside world, and the only landmark worth noting is a once-famous roadside diner that hasn't opened in years.
Ben's routine is turned upside down when he stumbles across a beautiful woman named Claire playing a cello in an abandoned housing development. He can tell that she's fleeing something in her past — a dark secret that pushed her to the end of the earth — but despite his better judgment he is inexorably drawn to her.
As Ben and Claire fall in love, specters from her past begin to resurface, with serious and life-threatening consequences not only for them both, but for others who have made this desert their sanctuary. Dangerous men come looking for her, and as they turn Route 117 upside down in their search, the long-buried secrets of those who've laid claim to this desert come to light, bringing Ben and the other locals into deadly conflict with Claire's pursuers. Ultimately, the answers they all seek are connected to the desert's greatest mystery — what really happened all those years ago at the never-open desert diner?
In this unforgettable story of love and loss, Ben learns the enduring truth that some violent crimes renew themselves across generations. At turns funny, heartbreaking and thrilling, The Never-Open Desert Diner powerfully evokes an unforgettable setting and introduces readers to a cast of characters who will linger long after the last page.
My Review
4 stars
Ben is 38 years old and although he owns his business he hasn't made a profit in years. He is looking to lose his truck and everything he has. But instead of dwelling on that, he continues his deliveries on route 117. This is a highway in the Utah desert full of odd ball people that don't get regular mail or deliveries. They rely on Ben. Each character has a story and some odd actions but you can tell they all have a place in Ben's heart.
One of the main ones is Walt. He owns the Well-Known Desert Diner that is never open. One day Ben stumbles upon a beautiful woman, Claire in an abandoned house playing a cello. He can tell she has some trouble in her past but Ben pursues her and they both fall in love with each other. But her past and others is about to catch up with them. Strangers are around and taking an interest in Ben. Claire's husband shows up looking for her and trouble and bodies start piling up.
I felt for Ben, here he is about to lose his livelihood. He has a mixed background and is a loner. He is almost perfect to deliver on Route 117. And he does not plan on stopping until he has no other choice. I loved all the different characters. The brothers that live in two boxcars, the young pregnant girl that was kicked out of her home, and Walt. Something happened with his wife and it has destroyed him. But there is something to the event and his past is not going to stay hidden for long.
This is a good story that has all kinds of emotions attached. Love, heartache, loss, and the mystery of what happened. This book does take a little to get going but while you learn of the different people and locations you won't really notice. When things start to happen they are fast and furious.
To purchase The Never Open Desert Diner make sure to visit Amazon, Barnes and Noble, Goodreads, and James Anderson's website.
I received The Never-Open Desert Diner from the publisher in exchange for an honest review.