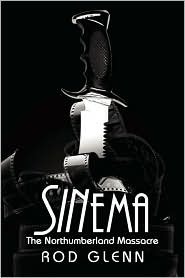 Sinema: The Northumberland Massacre by Rod Glenn
(Excerpt from Goodreads) A winter's tale with a sting. There's a newcomer to the small Northumberland village of Haydon . a charming novelist and film buff, researching a crime thriller about a serial killer on a rampage in a remote Northumberland community. The only trouble is, it's a work in progress and it's going to be non-fiction. 392 innocent men, women and children stand in his way to achieving a sadistic dream. As the worst winter in more than a century approaches, can two investigating police officers trapped with the terrorised residents stop this monster?
My Review
4 stars
A name that is obsessed with movies has come up with the plan to be the most notorious serial killer who murders everyone in a village. He comes up with the name Hannibal Whitman and randomly picks a small village in Northumberland. From there he follows the different residents around, learning about them while becoming part of this small village. Hannibal tests the waters and is a suspect since he is the new person in town. But when no evidence is found, he proceeds on to the murder everyone in town phase.
I love how this story is told. The first part is slower as Hannibal comes up with his plan and start getting to know the locals while becoming part of the town. Then you get hit when he goes on his rampage. I couldn't read fast enough to find out what was going to happen next in the break neck speed of events.
The problem I have with the book is once the killing starts you lose the story. Yes, the deaths are detailed and bloody. But then he goes out and kills most of the town and there isn't anything about it. I admit that I was left disappointed by the ending. Here you are on the edge of your seat with Hannibal and then…
This is a gory, gruesome story. If you are a fan of slasher horror movies you need to read this book. I do see that there are two other books in this series and I will definitely be getting them to see what happens to Hannibal.
To purchase Sinema: The Northumberland Massacre make sure to visit Amazon, Barnes and Noble, and Goodreads.
I received Sinema: The Northumberland Massacre a long time ago for free in exchange for an honest review.