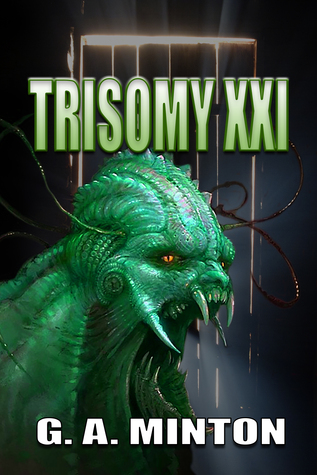 Trisomy XXI by G.A. Minton
(Excerpt from Goodreads) Sixteen-year-old Joshua Allen was born with an extra chromosome—a genetic aberration known as Trisomy XXI, or Down Syndrome. A serious accident leaves the mentally-challenged adolescent in a coma at the hospital, where he receives a mysterious injection that endows him with supernatural powers.
The transformed teen is linked to a string of bizarre, unexplained deaths in town that have both the sheriff and the coroner baffled. A ghastly creature from another planet lands on Earth and begins its hunt for the teenager—viciously slaughtering anyone in its path in order to complete its deadly mission.
The salvation of an entire race of aliens is in the balance, as Joshua and his friends are thrown into a horrific life-and-death struggle with the seemingly indestructible extraterrestrial being.

My Review
4 stars
Tranquil, AZ is about to get strange. We start with a quick introduction to the local drunk Henry Pickridge. Henry is out one night and gets abducted by aliens. Then we meet Joshua Allen, a 16 year old that has a rough past. Joshua lost his mother in child birth and was almost lost too if not for the emergency room doctor. Joshua was born with Down Syndrome, also called Trisomy XXL due to a third chromosome.
We follow Joshua and his best friend Patrick when a terrible accident happens and Patrick dies. While in the hospital, Joshua was injected with a strange red liquid that ends up removing the down syndrome and making him a very handsome genius. Then people start dying in strange ways with their only connection is with Joshua. But there is an alien that is bent on getting its claws on Joshua no matter who is in its way. Now it's up to Joshua, his girlfriend Tara, and the emergency room doctor to save everyone.
This is a wonderful story. Joshua has had a rough go in life but gets a fresh look after the accident the killed his friends. Tara is a sweet girl that is recovering from brain cancer and is a great match for Joshua. Then there is Ted, he has saved Joshua's life a couple times and is more of a father to Joshua than Joshua's real father. The story is great; you will be cheering and crying with Joshua. I loved the aliens but I found a soft spot for poor old Henry.
The only thing that did slow the story down is some of the descriptions got to be a bit boggy. I understand the sheriff decked out the pickup with all the bells and whistles but three paragraphs to describe everything was a little much.
Over all this is a great story and one that I recommend for anyone that likes young adult science fiction stories. This is one you will want to check out.
To purchase Trisomy XXI make sure to visit Amazon, Barnes and Noble, and Goodreads.
I received Trisomy XXI for free from World Castle Publishing in exchange for an honest review.