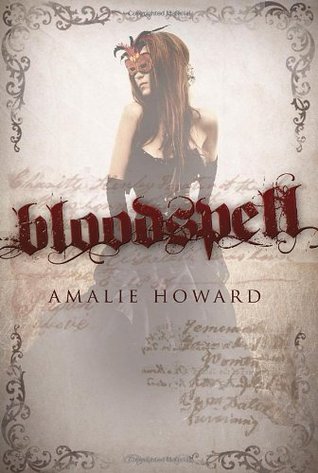 Bloodspell (The Cruentus Curse – 1) by Amalie Howard
(Excerpt from Goodreads) The spell was simple…
Cruentus Protectum (Defend the Blood)
But what do you do if your blood is your enemy?
Victoria Warrick has always known she was different. An outcast at school, she is no stranger to adversity. But when she receives an old journal for her seventeenth birthday, nothing prepares her for the dark secrets it holds — much less one that reveals she's a witch with unimaginable power.
What's more, when she meets the dazzling but enigmatic Christian Devereux, she has no idea how much her life is about to change. Enemies will hunt her. Friends will turn on her. The terrible curse that makes her blood run black will stop at nothing to control her. And Christian has a sinister secret of his own…
Without knowing whom to trust, can Victoria survive her blood's deadly desires? Or will she lose everything, including herself?
My Review
4 stars
Victoria has had a rough go with life after her parents died in a car accident. She also has been the odd person out with bullying at school. But when she turns 17, Tori is giving a music box, a book, an amulet, and learns that she is a very powerful witch. The problem is that through her veins runs a darkness, a murderous rage that she calls Cruentus Curse. Then she meets Christian. Christian is a vampire that is trying to control his fangs. They have fallen for each other but of course vampires and witches are at war.
Tori has just joined the paranormal world but with her powers she is now a target. People are going to hunt her, friends will abandon her, and others will stand up to help her. Christian has been part of this world for awhile and wants to protect Tori. But Tori is no wilting flower; she has the abilities to stand on her own, if she can find some way to control the curse.
This story is rich with realistic characters. Tori and Christian both have great powers and no matter how hard they try, the power takes over and people die. All they can do is pick up the pieces and try again. My only complaint was Tori and Christian both drove me up the wall with their hot/cold relationship. One moment they just have to be together then the next they want to kill each other. It got to be a bit much.
Beyond that I loved how this story is centered around the dark witches and vampires. There is no sparkle and there is no Glenda the good witch. This is a great, killer story. I loved the fight scenes. There were plenty with lots of action.
This is a good story and one that I recommend you check out if you like fantasy paranormal stories.
To purchase Bloodspell make sure to visit Amazon, Barnes and Noble, Goodreads, and Amalie Howard's website.
I received Bloodspell for free from Charlie Roger in exchange for an honest review.
Bloodcraft (The Cruentus Curse – 2) by Amalie Howard
(Excerpt from Goodreads) All magic has its price, and no one knows that better than Victoria Warrick. Gifted with a centuries-old blood curse, Tori has finally learned to master her blood's demands and has emerged triumphant with Christian Devereux, a vampire overlord, at her side.
But the worst is yet to come …
In the infamous City of Lights, home to both the Witch Clans and the Vampire Council, Tori enrolls at the exclusive Belles Fontaines school in Paris, where she is faced with a devastating choice: choose Christian and be an outcast, or choose the coven and secure her place with the witches.
When the fate of the supernatural world is targeted by a sinister new threat, Christian and Victoria must unite their two warring species to defeat it. Their bond will be tested, twisted, and sorely weakened, and Tori will find herself in uncharted territory—a dangerous place to be when her blood's magic has its own dark agenda.
But to save them all, she may have no choice but to invoke its deadly power.
My Review
5 stars
Tori is starting to get a handle on her blood curse and both Christian and her seem to be the perfect couple. Tori wants to learn more about the blood curse and how to control her powers but must make a big decision. If she is to proceed she has to give up her relationship with Christian. But attending Belles Fontaines is not going to be as clear cut as she thinks as many people want her powers or her death. She is going to have to fight to find her place in this world.
Then there is Christian. He loves Tori so much and couldn't care less about social norms. But he will feel the sting and hurt from the witches that expect Tori to take her place. But this is not the only thing he has to contend with. Lucien, Christian's brother shows up and proves what an evil villain he can be. Christian also learns more about his maker.
This is a great story. You can just feel the love that Tori and Christian have for each other. It was so hard to watch what Christian went through and how Tori hurt him. Then there is Lucien, what an evil, selfish jerk. He is a villain that you can't help but like even to the end.
There are great fight scenes and lots of romance in Bloodcraft. And the ending is just perfect. I do recommend reading Bloodspell so you can get some more background with Tori and Christian's relationship. But you can easily read Bloodcraft and not be lost.
To purchase Bloodcraft make sure to visit Amazon, Barnes and Noble, Goodreads, and Amalie Howard's website.
I received Bloodcraft for free from Roger Charlie in exchange for an honest review.