I am lucky enough to have been given both Alice and Red Queen in Christina Henry's The Chronicles of Alice series. I am a lover of all things Alice in Wonderland and jumped at the opportunity to review these books.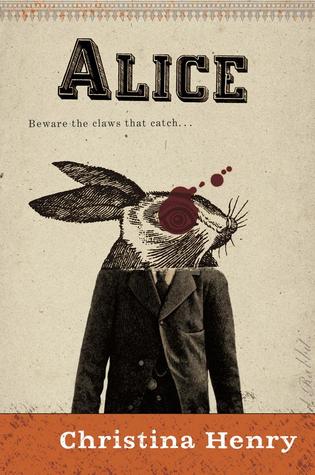 Alice (The Chronicles of Alice – 1) Christina Henry
A mind-bending new novel inspired by the twisted and wondrous works of Lewis Carroll…
In a warren of crumbling buildings and desperate people called the Old City, there stands a hospital with cinderblock walls which echo the screams of the poor souls inside.
In the hospital, there is a woman. Her hair, once blond, hangs in tangles down her back. She doesn't remember why she's in such a terrible place. Just a tea party long ago, and long ears, and blood…
Then, one night, a fire at the hospital gives the woman a chance to escape, tumbling out of the hole that imprisoned her, leaving her free to uncover the truth about what happened to her all those years ago.
Only something else has escaped with her. Something dark. Something powerful.
And to find the truth, she will have to track this beast to the very heart of the Old City, where the rabbit waits for his Alice.
My Review
5 stars
Alice has survived her trip to the Old City but has been driven mad in the process. We meet up with her in an asylum. Next to her cell is a murder called Hatcher. When I fire breaks out in the asylum, Hatcher saves both of them but the Jabberwocky was been released. It is now up to Alice and Hatcher to go to Old City and fight the Jabberwocky. Hopefully both of them can remember what has been forgotten to keep them alive.
Alice's curiosity has been stopped after her trip to Old City years earlier. But when Hatcher breaks both of the out of the asylum, Alice finds that she does and doesn't want to remember what has happened to her. Hatcher is clearly mad but he cares for Alice. He has Seer abilities and they are telling him to kill that Jabberwocky who was a Magician. But there is more to both Alice and Hatcher as they travel this dark world of Old City.
I love Alice in Wonderland and couldn't wait to read this book. This story has basic characters from the original story but they have their own world. Old City is a brutally dark place filled with murder, rape, animal and human fights, abuse and so much more. I loved the story but just know that it is pretty brutal.
If you are looking for a great, dark, mad story with a hint of Alice in Wonderland check out Alice. I can't wait to read the second book Red Queen.
To purchase Alice make sure to visit Amazon, Barnes and Noble, Goodreads and Christina Henry's website.
I received Alice for free from the publisher in exchange for an honest review.
If you loved Alice you need to check out Red Queen.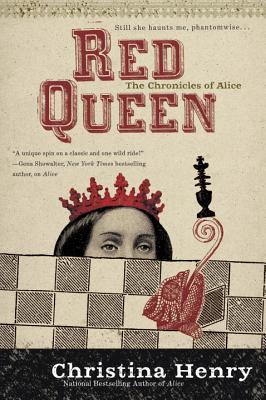 Red Queen (The Alice Chronicles – 2) by Christina Henry
The author of Alice takes readers back down the rabbit hole to a dark, twisted, and fascinating world based on the works of Lewis Carroll…
 
The land outside of the Old City was supposed to be green, lush, hopeful. A place where Alice could finally rest, no longer the plaything of the Rabbit, the pawn of Cheshire, or the prey of the Jabberwocky. But the verdant fields are nothing but ash—and hope is nowhere to be found.
Still, Alice and Hatcher are on a mission to find his daughter, a quest they will not forsake even as it takes them deep into the clutches of the mad White Queen and her goblin or into the realm of the twisted and cruel Black King.
The pieces are set and the game has already begun. Each move brings Alice closer to her destiny. But, to win, she will need to harness her newfound abilities and ally herself with someone even more powerful—the mysterious and vengeful Red Queen…
My Review
5 stars
Alice and Hatcher have escaped the Old City and are now looking for Jenny. But the land is not the expected green, everything is ash and burned, even the white rabbit and girls. It seems the Black King has been slowly burning the White Queens land. For what reason no one knows. But when Hatcher turns into a wolf and goes to the White Queen it is up to Alice to stop both the Black King and White Queen. Thankfully the Red Queen is there to help.
I think Red Queen is better than Alice. It is not as dark but there is a lot of room for Alice to grow as a person and with her magic. I loved the story between the Black King and the White Queen. Tragic but works well. And Hatcher, you can't help but feel for the poor guy. He finds what he is looking for just to lose it again.
Just like Alice, there is just a hint of the original Through the Looking Glass story but this book is its own story. I loved how it progressed and I can't wait to read the next book in the series.
To purchase Red Queen make sure to check out Amazon, Barnes and Noble, Goodreads and Christina Henry's website.
I received Red Queen for free from the publisher in exchange for an honest review.