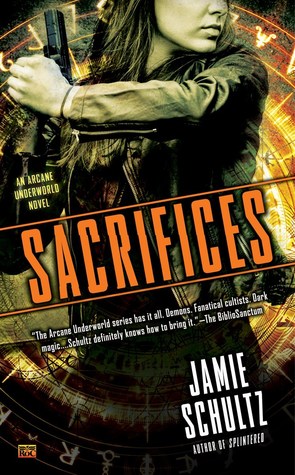 Sacrifices (Arcane Underworld – 3) by Jamie Schultz
(Excerpt from Goodreads) Things get a little demonic in the latest Arcane Underwold novel from the author of Splintered.
 
Thanks to their recent involvement with a magus crimelord and his demonic partner in mayhem, occult thieves Anna Ruiz and Karyn Ames are both stuck sharing head space with a demon. But while Karyn's possession has had the unexpected benefit of focusing her visions of the future, Anna's demon is spurring on her darkest urges, and it's only a matter of time before she acts on them—and hurts someone in the process.
To save their skins, the two need to find a mysterious relic. But with their search taking them into some of the darkest places in the arcane underworld, Anna and Karyn will have to ally themselves with a group no self-respecting thief would be caught dead with—the Federal Bureau of Investigation…
My Review
4 stars
Anna Ruiz and Karyn Ames are thieves that have proven themselves by stealing obscure occult items. But since they have met Enoch Sobell, he keeps giving them harder and harder jobs. It also doesn't help that both are being possessed by demons. Karyn may have more focused visions but Anna is starting to find it harder and harder to resist her own dark desires.
Anna has basically taken over since Karyn has been wrapped up in her visions. Eventually they need to be done with Sobell since it is clear that he is just going to push them to the end. It is a race to the free themselves and filled with lots of action up to the end.
I admit that I have not read the other books in this series and although Sacrifices could be read as a stand-alone it would have been better with a bit more background. I did really like this book and will definitely be getting the other two books in this series.
To purchase Sacrifices make sure to check out Amazon, Barnes and Noble, Goodreads and Jamie Schultz's website.
I received Sacrifices for free from Netgalley and the publisher in exchange for an honest review.