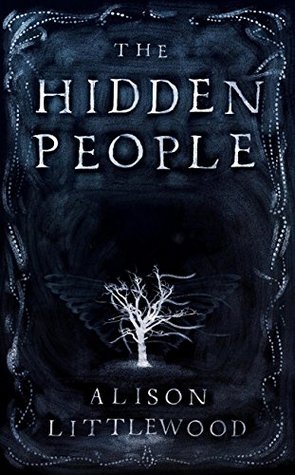 The Hidden People by Allison Littlewood
Pretty Lizzie Higgs is gone, burned to death on her own hearth – but was she really a changeling, as her husband insists? Albie Mirralls met his cousin only once, in 1851, within the grand glass arches of the Crystal Palace, but unable to countenance the rumours that surround her murder, he leaves his young wife in London and travels to Halfoak, a village steeped in superstition.
Albie begins to look into Lizzie's death, but in this place where the old tales hold sway and the 'Hidden People' supposedly roam, answers are slippery and further tragedy is just a step away . . .
Amazon     Barnes and Noble     Goodreads
My Review
3 stars
Albie Mirralls briefly meets his cousin, Lizzie Higgs, during the 1851 Great Exhibition. There he notes her beautiful voice and quiet demeanor. Years later his father tells him about Lizzie's death at the hands of her husband. It seems that her husband thought she was a changeling and burned her to death. He is rather upset and becomes obsessed with Lizzie. He travels to Halfoak to figure out what is going on. When he arrives he is appalled that Lizzie has not been buried.
Albie moves into Lizzie's house while he tries to figure out what is really happening. This is a whole new world from what he knows and how the Hidden People play into this town. Albie's wife decides to join him and it starts to look like she may be a changeling too. Is Albie falling into the same place with the folk lore of the town and area?
The Hidden People is wrote similar to stories in the 19th century so it gave the story a gothic feel to it. I also liked the attention to detail of the difference in language from London to Halfoak, details like this made the book even better.
I have to admit that I had a hard time getting into this story. It kind of dragged and the over whelming amount of detail just made the book slower. I just kept finding myself reading the same paragraph over and over. I even thought about not finishing the book. But I stuck with it and was rewarded in the end. Please don't take this the wrong way, the book ends well. It was just not one that flowed well for me.
I received The Hidden People from the publisher for free. This has in no way influenced my opinion of the book.