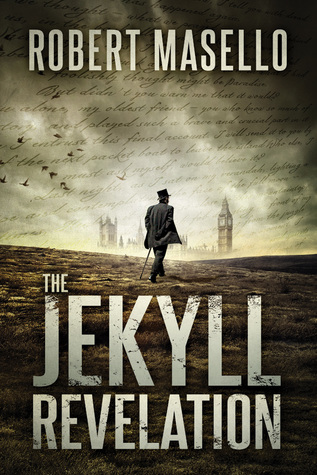 The Jekyll Revelation by Robert Masello
While on routine patrol in the tinder-dry Topanga Canyon, environmental scientist Rafael Salazar expects to find animal poachers, not a dilapidated antique steamer trunk. Inside the peculiar case, he discovers a journal, written by the renowned Robert Louis Stevenson, which divulges ominous particulars about his creation of The Strange Case of Dr. Jekyll and Mr. Hyde. It also promises to reveal a terrible secret—the identity of Jack the Ripper.
Unfortunately, the journal—whose macabre tale unfolds in an alternating narrative with Rafe's—isn't the only relic in the trunk, and Rafe isn't the only one to purloin a souvenir. A mysterious flask containing the last drops of the grisly potion that inspired Jekyll and Hyde and spawned London's most infamous killer has gone missing. And it has definitely fallen into the wrong hands.
Amazon     Barnes and Noble     Goodreads
Author's Bio
Robert Masello is an award-winning journalist, TV writer, and the bestselling author of many novels and nonfiction books. His most recent thriller, entitled THE EINSTEIN PROPHECY (47 North), hit the # 1 spot in the Amazon Kindle store. Previous books include BLOOD AND ICE, THE MEDUSA AMULET, and THE ROMANOV CROSS, all published by Bantam/Random House.

He is also the author of two popular studies of the Occult — FALLEN ANGELS AND SPIRITS OF THE DARK and RAISING HELL: A CONCISE HISTORY OF THE BLACK ARTS.

His books on writing include WRITER TELLS ALL, A FRIEND IN THE BUSINESS, and the classroom staple, ROBERT'S RULES OF WRITING.

His TV credits include such popular shows as "Charmed," "Sliders," Early Edition," and "Poltergeist: the Legacy."

A native of Evanston, Illinois, he studied writing at Princeton University under Robert Stone and Geoffrey Wolff, and now lives a few blocks from the beach in Santa Monica, CA.
My Review
4 stars
Rafael, Rafe, is an environmental scientists that is tracking coyotes in Colorado when he discovers an ancient steamer trunk. Rafe is expecting treasure but instead finds a journal of Robert Louis Stevenson and a few other items. As Rafe reads the journal we are transported to Robert's time. Robert was very ill and many experimental treatments were used to try and cure him. He tells how he came up with the Jekyll and Hyde story and Jack the Ripper's origins. Back in the present day, Rafe is trying to save his coyotes. To do so he has to fight poachers, bikers, and face many other obstacles.
This is really two stories in one. Each one has their own feel. The story revolving around Robert Louis Stevenson has the classic gothic feel to it. I can even see some of the horrible treatments they tried to cure Robert with. Rafe, although more modern, has some similar connections to Robert but they are not apparent right away.
I admit that the beginning of the story did drag. I had a hard time staying focused. Also, the double narration was interesting in how each was handled with the different writing styles and such, I found myself wanting to read Robert's story. I think this could have been a great book just about Robert Louis Stevenson.
Overall, this is a good story and one that I think most people will like. It has a fresh take on the Jekyll and Hyde story along with a great idea on Jack the Ripper. I have not read any other books by Robert Masello but I am going to be check them out.
I received The Jekyll Revelation from the publisher for free. This has in no way influenced my opinion of this book.