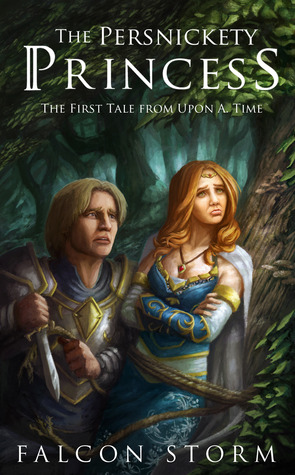 The Persnickety Princess (Tales from Upon A. Time – 1) by Falcon Storm
High up in the tallest tower of the purplest castle in the Kingdom by the Sea, Princess Lavender awaits rescue. Desperate as she may be, only the most dashing, well-dressed, properly mannered prince will do. Oh, and he must stand exactly four and three-quarters inches taller than her. A princess has got to have standards, after all.
When, finally, one such prince comes to her castle–not to rescue her, but her younger sister–Lavender refuses to be ignored. Instead of waiting for the next suitor to come along, she devises a plan to put herself in danger, thus forcing the upstart prince to forget her sister and rescue her instead.
Well accustomed to getting her way, there is only one thing, unfortunately, that this princess can't control–her luck. When her plans go awry, putting her in very real danger, will she allow the prince to rescue her as he sees fit? Will he even want to try?
And will anyone be able to find a way to rescue Lavender from her persnickety ways once and for all? Find out in this comedic tale of princes, dragons, and dreams that just may come true.
Amazon     Barnes and Noble     Goodreads
Author's Bio
I was born in the frozen wasteland of Alaska with the unfortunate stigma of being both a daydreamer and left-handed. Starting from an early age, I've filled my life with stories of every sort from my father's hunting trips to the Holy Trilogy (read: Star Wars). In the fourth grade, I became more interested in telling stories of my own than listening to those of others. Doctors—being doctors—attempted to medicate them out of me, but the best cure has always been a pen, a notebook, and my crazy, unrestrained imagination.

I continue to whittle away at these stories in my endless search for the one that will finally bring me back to reality. All the while, I secretly hope such a story will never come along. I hear "reality" is far too boring.

After escaping the North, I moved to Michigan where I fell in love with (and married) author Emlyn Chand. Together we manage our menagerie of birds and dogs in our lakeside house in suburban Detroit. When I'm not writing or chasing after disobedient curs, I play video games, develop apps and try my hand at any exciting hobby to come my way.

Come follow the madness at the various social media thingys or simply check out my website. And, oh yeah, The Persnickety Princess is my very first book—of presumably many more.
My Review
5 stars
Bard Upon A. Time has been caught stealing and to save himself he starts telling the story of The Persnickety Princess. Princess Lavender is a bit demanding and insists on having the perfect prince rescue her. But when he does show up she learns that he is actually there to save her sister Petunia. Lavender decides that if she can just get him to save her then everything will be perfect. But things are not going to go her way. Lavender finds herself in one mess after another and constantly being saved by the squire. Will she finally find herself and her happiness?
This is a great story for kids. There is a lot to discuss with them along with them about being happy and having realistic goals. Also, you don't have to rely on someone else to save you. I love how the harder Lavender tried to force people into her plans the worst they blew up on her.
Lavender was over the top with her antics and I was constantly laughing. This is a wonderful story and I can't wait to see what Upon A. Time comes up with for his next story.
I received The Persnickety Princess from Candid Book Reviews for free. This has in no way influenced my opinion of this book.