Hour of the Wolf (Inspector Van Veeteren – 7) by Hakan Nesser
The master of Swedish crime fiction returns with this latest entry into the internationally acclaimed, award-winning mystery series—one of the darkest tales yet in the series that is, as well, an electrifying stand-alone novel.
In the middle of the night, a boy is struck by a car after leaving his girlfriend's house. The driver, drunk, leaves the boy's body by the side of the road and, wrestling with guilt, tries to put it all out of his mind—until a blackmail note arrives. In the meantime, Reinhart, the new chief inspector of the Maardam police force, has set his team to work. But a second, possibly related killing proves that this is no ordinary case. The police, desperate for answers, struggle to decipher the clues to these appalling crimes, but as the killer becomes increasingly unhinged and unpredictable, Van Veeteren, now retired, is compelled to re-enter the world he left behind. He will face the greatest trial of his career as he seeks vengeance for the death of someone who was close to him. Told with Håkan Nesser's trademark eye for detail, breakneck plotting, and gut-wrenching moral tension, Hour of the Wolf finds the Nordic noir superstar spinning one of his most spellbinding tales yet.
Amazon     Barnes and Noble     Goodreads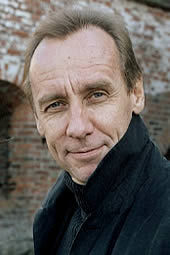 Author's Bio
Håkan Nesser is a Swedish author and teacher who has written a number of successful crime fiction novels. He has won Best Swedish Crime Novel Award three times, and his novel Carambole won the Glass Key award in 2000. His books have been translated from Swedish into numerous languages.
Håkan Nesser was born and grew up in Kumla, and has lived most of his adult life in Uppsala. His first novel was published in 1988, but he worked as a teacher until 1998 when he became a full-time author. In August, 2006, Håkan Nesser and his wife Elke moved to Greenwich Village in New York.
My Review
4 stars
A young man leaves his girl-friend's house and misses the bus. He starts walking when he is hit by a drunk driver. The driver, thinking no one saw him, leaves the boy without checking on him. But someone did see him and decides to blackmail him. Van Veeteren is now retired but gets called back in when the case involves his son. But he is not there in an official capacity, he guides more than anything. Hopefully they can figure out how the killings link together before the body count gets too high.
This is a great Swedish crime mystery. There is a case of blackmail that leads to the death of several people. Van Veeteren becomes part of the mystery and gives advice to the new team while reflecting on his son.
Since this book has been translated, there are a couple things that stand out to me for not flowing. I'm sorry to say that the mystery was a little predictable but I was laughing at Van Veeteren's view of American's in New York.
This was the first book of Hakan Nesser's that I have read. Although it is the seventh book in the series, it could be a standalone book. I think I am going to read the first book in this series, Mind's Eye, then I will decide if I want to continue with the series.
I received Hour of the Wolf from the publisher for free. This has in no way influenced my opinion of this book.