Holiday Spotlight from Roger Charlie
Make sure to check out all the wonderful author's and their books from Roger Charlie.
Wendy Terrien – The Rampart Guards (The Adventures of Jason Lex #1)
Middle Grade / Young Adult
After his mom disappears, Jason Lex and his family move to a small town where he has no friends, no fun, no life. Things get worse when he's chased by weird flying creatures that only he can see—Jason thinks he's losing it.
But when Jason discovers new information about his family, he's stunned to learn that creatures like Skyfish, Kappa, and the Mongolian Death Worm aren't just stories on the Internet—they're real and they live unseen alongside the human race. Many of these creatures naturally emit energy capable of incinerating humans. An invisible shield keeps these creatures hidden and protects the human race from their threatening force, but someone, or some thing, is trying to destroy it.
Unsure who he can trust, Jason is drawn into the fight to save the people closest to him, and he finds help in surprising places. Confronted with loss, uncertainty, and a devastating betrayal, Jason must make a gut-wrenching decision:
Who lives, and who dies.
Find Wendy and The Rampart Guards Online:
Official Website    Goodreads    Facebook    Twitter    Instagram    Amazon
Corinne O'Flynn – Song of the Sending
Urban Fantasy
They told him his world was destroyed.
And they were the last to escape.
They thought he was safe.
They were wrong.
Seventeen-year-old Jim Wales can communicate with animals, but that's not why he lives with a traveling carnival. Turns out his family's been hiding him there since he was little, since someone started hunting all the scholars. Jim is a scholar–someone who can manipulate energy using magic–and he has no idea.
When a message arrives from Jim's father–who supposedly died twelve years ago–Jim's whereabouts are discovered, their carnival is attacked, and his mother is kidnapped. On the run with a strange glass map and a single coin, Jim finds himself racing to reclaim the father he thought he'd lost, plotting to save his mother, and discovering the truth about who he is.
But going home isn't the same as being safe, and trust is everything.
Find Corinne O'Flynn at The Expatriates series online:
Official Website    Goodreads    Google+    Facebook    Twitter    Instagram    Amazon
Janet "The Kid" Fogg and Dave "Gusto"Jackson – Misfortune Annie and the Locomotive Reaper
Middle Grade
When Annabelle Fortune, the fastest gunslinger in the wild west, inadvertently stops a stranger from attacking a train — and he wears a suit that enables him to fly! — the government believes she's the only one to have witnessed the Locomotive Reaper and survived to tell the tale.
Promising to find out what he can about her missing father, the Director of the Secret Service persuades Annie to swear in. Too soon, her detested nickname re-stakes its claim.
Partnered with Beau Slokam, whose penchant for gambling leads them straight to the Doom Gang, Misfortune Annie guides the smooth-talking Southerner in a chase through the Rockies, with her Cheyenne friend, Wontoa, rounding out their unlikely trio.
When Annie again meets the Locomotive Reaper, his gadgetry proves far more advanced — and deadly — than even top scientists could have imagined.
Find Janet, Dave and Misfortune Annie online:
Official Website    Janet's Website    Dave's Website    Janet on Goodreads   
Dave on Goodreads     Janet on YouTube     Janet on Facebook   
Johanna Garton – Awakening East
A few years after adopting her son and daughter from China, Johanna Garton and her husband took them back to the land of their birth – leaving the only lives she and her family knew for the adventure of a lifetime.
Find Johanna and Awakening East online:
Official Website    KidsYogaSpeak    Goodreads    Facebook    Blog    KidsYogaSpeak on Facebook     Pinterest    Amazon
Liv Hadden – In the Mind of Revenge

In the Mind of Revenge, book one of The Shamed Series, takes a deep look at how monsters are born. Set in a society that glorifies "normal" and demonizes different, this dark tale takes its readers on an emotionally wild ride of vengeance, murder, pain and desperation. Though the reader is warned by its main character, Shame, not to develop an attachment, the first person narrative combined with Shame's uninhibited vulnerability makes it nearly impossible not to do so. Raw, vivid, honest, fast-paced and beautifully vulgar, In the Mind of Revenge is sure to have you emotionally twisted from beginning to end.
Mine is a tale of pain, hate, lies, murder, injustice, vengeance, and love unreturned. It began much like yours; a hopeful innocent born to a world of endless possibilities. But my journey has rarely been paved with opportunities of light. Confronted by those who sought to eclipse what light I had found, the darkness came for me. Wrapped in its intoxicating embrace, I have risen from the dead to reclaim my dignity and the life that was taken from me. I have begun my journey into the mind of revenge. Revenge for me. Revenge for those like me. Those who are shamed.
This is a story for the shamed, by the shamed. The question is, are you ready for it?
Find Liv and In the Mind of Revenge online:
Official Website    Goodreads    Facebook    Twitter    Instagram    Amazon    Audible
Robert Wideman and Cara Lopez Lee – Unexpected Prisoner: Memoir of a Vietnam Vet
When Lieutenant Robert Wideman's plane crashed on a bombing run in the Vietnam War, he feared falling into enemy hands. Although he endured the kind of pain that makes people question humanity, physical torture was not his biggest problem. During six years as a prisoner of war, he saw the truth behind Jean-Paul Sartre's words: "Hell is other people." Unexpected Prisoner explores a POW's struggle with enemies and comrades, Vietnamese interrogators and American commanders, his lost dreams and ultimately himself.
Find Robert, Cara and Unexpected Prisoner online:
Official Website    Goodreads    Facebook    LinkedIn    Twitter    Amazon
Sue Duff – The Weir Chronicles
Fade to Black (Book 1)
In the world of illusions there are many secrets . . . Ian Black has more than most.
Ian Black is an illusionist with a talent for keeping secrets. College student Rayne Bevan has a gift for uncovering them. She suspects that the popular performer's skills extend beyond the stage and that he's the area's mysterious and elusive defender of the innocent.
In her efforts to uncover the truth, Rayne is swept into the hidden world of the Weir, a magical race who struggle to prevent Earth from self-destructing. Her inquiries expose Ian to those who would kill for his connection to the planet, and as he fights to keep Rayne safe, they discover a force behind the Weir's raging civil war—a traitor bent on launching Earth's Armageddon.

Masks and Mirrors (Book 2)
Ian Black's commitment to safeguarding Earth has come at a price. His career as an illusionist is at a standstill and attending to the planet's needs has distanced him from his best friend, his guardians, and the woman he loves. When presented with an opportunity to perform, Ian seizes the chance. But moments before he takes the stage, Ian encounters the mysterious Jaered and a rebel force fighting to protect Earth alongside the Weir.
Jaered is determined to stop a malevolent Weir from releasing a drug capable of wiping out the last vestiges of their race and plunging Earth into self-destruction. But when Jaered is willing to sacrifice an innocent child to obtain the drug for himself, Ian risks everything to uncover the secrets of the rebel forces and their true intentions for Earth's survival.

Sleight of Hand (Book 3)
The epic Weir Chronicles continues. The rebels poison Ian and it's up to Rayne and Patrick to find a cure before their friend succumbs and Earth's fate is left in the hands of adversaries intent on taking control of the planet. To obtain answers, Rayne must travel to an alternate world where few survive as Patrick unearths the secrets of the rebels and discovers a truth that shatters his beliefs about the Weir and the future of Earth.
Stack a Deck (Book 4 – Coming February 1, 2017)

Ian's alliance with the rebels brings the wrath of the Pur army crashing down on them, but he is forced to abandon his new allies and travels to Earth's alternate universe to rescue Rayne. As Ian combs the strange, desolate planet in search for her, he discovers the true story of the Weir and his connection to Earth's imminent destruction.
Find Sue and The Weir Chronicles Online:
Official Website    Goodreads    Facebook    Twitter    Instagram    Newsletter    Amazon    Audible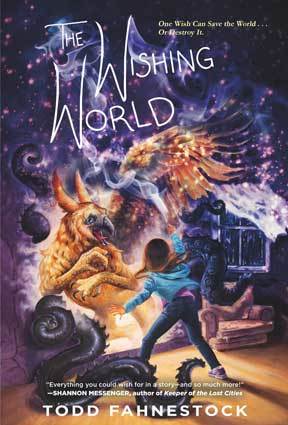 Todd Fahnestock – The Wishing World

In the Wishing World, dreams are real. You can transform into your own hero, find wild and whimsical friends, and wield power as great as your imagination. But Lorelei doesn't know about any of that. All she knows is that a monster took her family.
It happened during a camping trip one year ago. Hiding inside the tent, she saw shadows, tentacles and a strange creature. By the time she got up the courage to crawl outside, the monster–and Lorelei's mom, dad, and brother–were gone.
Lorelei is determined to find her family. When she accidentally breaks into the Wishing World, she discovers a way. It's a land more wonderful than she could have imagined, a land of talking griffons, water princesses, and cities made of sand, where Lorelei is a Doolivanti–a wish-maker–who can write her dreams into existence.
There's only one problem: the monster is a Doolivanti, too. What he wishes also comes true, and he's determined to shove Lorelei out, keep her family, and make the whole Wishing World his. To save them, Lorelei must find the courage to face him, or her next wish may be her last.
Find Todd and The Wishing World online:
Official Website    Goodreads    Facebook    Twitter    Amazon