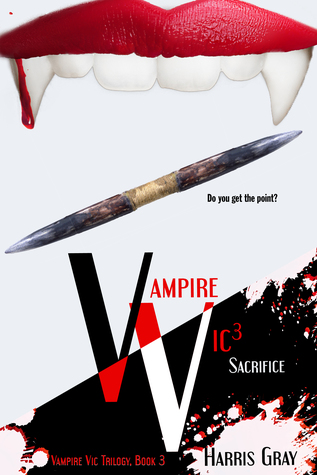 Vampire Vic 3: Sacrifice by Harris Gray
FINALLY WE CAN ALL GET ALONG, THANKS TO VAMPIRES
Romania in the year 1586. "Improved" vampires are ascendant and young slayer Trubadur Maistru hunts the Morbius carrier before he can choose the next vampire queen. Too late-Trubadur finds his true love Nadia seduced and bitten.
But this incarnation of Morbius wields an unexpected power, and Nadia and Trubadur slay their way from Transylvania to Bucharest, where their fateful climax sows the seed for a rebirth of the curse.
Modern day Atlantic City. Rumors of a new Morbius greet the world's most powerful vampires as they convene to execute their takeover. The "V-8" (there are actually 11) brand their would-be slayers as terrorists and launch a lethal "anti-terrorism" campaign.
Now a war-weary world hears a young and beautiful, fanged voice promising peace….
Humans embrace vampires and ancient curses couple with the world's finest technologies-drones, virtual reality, multi-level marketing organizations. Yet everything hinges on the fated lovers, Eugene and Amberly. In Vampire Vic's final chapter, true love cannot save everyone; it only promises there will be sacrifice.
Amazon     Barnes and Noble     Goodreads
Author's Bio
Allan Harris and Jason Gray are the writing duo Harris Gray, authors of multiple novels and screenplays, a Christmas play, and a collection of stories from Jason's younger days. An early version of JAVA MAN was a finalist in the Rocky Mountain Fiction Writers contest. Allan is a former guest columnist for The Denver Post. Jason owns Crowfoot Valley Coffee and the Crowbar, land of rumor and embellishment.
The Harris Gray collaboration began in Jason's coffee shop. Allan wrote, and eavesdropped as Jason entertained his customers. One day Allan found a little yellow notepad waiting for him, crammed to the margins with Jason's exploits. Allan typed them, touched them up, and called it good, but Jason had other ideas. As their tales converged and became inseparable, Harris Gray took shape…the writer and the storyteller.
Allan and Jason are both married with a couple kids apiece, but many people still consider them a couple. Vampire Vic launched the VV Trilogy in March 2013; Book Three is due October 2016.
My Review
5 stars
We start the story in Bucharest in 1586. Trubadur Maistru is a vampire slayer returning to do his job and find his former love Nadia Rakoczis. But Tru learns that the current Morbius vampire has passed on his carrier to a new vampire, Nadia. But Nadia is also blessed/cursed with the ability to see vampire's weaknesses. Together Tru and Nadia work together to kill vampires since being together seems to keep the Morbius and curse at bay for Nadia.
In the present day, vampires are trying to rule despite the slayers. They decide to turn Amberly, Vic's daughter, into a vampire to draw him out of hiding. Then they plan on using him to their advantage. But Vic and Eugene are doing whatever they can to stop the vampires along with several other adventures along the way.
This is a hilarious series that I have enjoyed following along with. It's more of a comedy of errors following Vic and Eugene on the search for the Morbius diary. They truly are an Odd Couple. They clearly would rather be anywhere than working together, yet they have to make the best of it.
Then you have Tru and Nadia. Watching them interact was interesting. Tru clearly loves her and is rather upset that she was bitten by a vampire and slept with him. Nadia balances on the fine line of dark and evil and willing to help Tru. How they break the curse comes back to Vic and Eugene and had me laughing hysterically.
This is a great series, a wonderful story with lots of action, blood, and hilarity around every corner. This is one series that I recommend everyone read.
I received Vampire Vic 3 from the authors for free. This has in no way influenced my opinion of this book.