Much Ado About Highlanders (The Scottish Relic Triology – 1) by May McGoldrick
In the heart of Scotland, this Highlander is about to meet his match in a brand new romance from bestseller May McGoldrick.
Highland warrior Alexander Macpherson has lost his wife. When he agreed to take Kenna Mackay as his bride to advance his clan's power in the north, he expected a bit of an adjustment. He didn't expect the sharp-tongued beauty to run away on their wedding night. Still, Alexander wants his runaway bride…and he has the sneaking suspicion that she wants him, too.
Kenna Mackay thought she was safe in a priory full of nuns learning the craft of healing, but when she is kidnapped by her own husband, the battle of wits begins anew. But even as passions ignite, a deadly secret from Kenna's past rises to the surface and put their new love in jeopardy. As a heartless villain closes in, two headstrong lovers find themselves locked in a struggle between evil and the power of undying love. And this time, Alexander is determined he will not lose his wife again.
Amazon     Audible     Barnes and Noble     Goodreads
My Review
4 stars
Alex Macpherson agrees to marry Kenna Mackay to advance his clan's power. But he didn't expect Kenna to be so hard-headed, sharp tongued, and to run away on his wedding night. Kenna hides out in a priory and learns to heal. After helping a woman deliver her bay, Kenna finds herself kidnapped and back with her husband. It is going to be a battle of some strong wills to get these two together. But they will have to work together if they are going to save everyone from the Ralph Evers and his quest for power.
I loved the story of Alex and Kenna, this is a great love story between two people that have a misunderstanding and are bound a determined not to love/rely on someone else. I loved the strong willed Kenna and how she was going to not love Alex, even though you could tell that she was coming to care for him deeply.
I loved the story of the relics, four portions of a table that gives it's wearer's abilities. Kenna has the stone that provides healing. Her mother died giving birth to Kenna so she doesn't know about the stone or her abilities. It was great learning about them. Of course you have to have a power hungry person bound a determined to get all the stones.
This is the first book I have read from the May McGoldrick team. I received the audiobook version to listen to and fell in love with the story. Saskia Maarleveld does an amazing job narrating this story. I'm so happy that I received all three books in this series to review. I will definitely be having a highlander marathon.
Taming the Highlander (The Scottish Relic Trilogy – 2) by May McGoldrick
This new historical romance from May McGoldrick pits one spirited lass against her biggest challenge yet: a Highland lord who has no desire to lose his heart.
Innes Munro has the ability to "read" a person's past simply by touching them, but her gift comes with a heavy price: her freedom. Forced to stay at desolate Castle Girnigoe, Innes never expects to be drawn to the wounded warrior who haunts its dark passages and challenges her at every turn.
Conall Sinclair, the earl of Caithness, carries the scars of battles with the English and the lash marks of their dungeons, but the wounds that fester within give him even greater pain. Isolating himself from his clan and the rest of the world in a tower perched on the wild Scottish coast, Conall is reluctant to let the spirited Innes close to him, however neither can deny the growing passion that ignites with every look, every touch.
But can Conall ever love a woman who can read his darkest secrets and feel the pain he hides… and can love really tame all fears? As dangerous forces close in, Conall and Innes must take the ultimate leap of faith and forge a bond of trust that will save them both…or lose each other forever.
Amazon     Audible     Barnes and Noble     Goodreads
My Review
5 stars
Innes Munro is a bit of a recluse. She has the ability to read someone's past by touching them and this leads to her staying locked away in Castle Girnigoe to keep from being branded a witch. But she is asked to attend her sister's wedding where she meets Conall Sinclair. Conall was taken hostage by the English and tortured and now keeps to himself. But Innes and Conall find themselves drawn to the other but are worried that their past and ability will cause more harm than good. We follow along as they start to love each other and the various events that draw them closer. But then someone from the past makes an appearance and tries to take away the stone that Innes has.
I loved the story with Innes and Conall. They were so reluctant to reach out to each other and watching them come together was such a sweet story. I loved the antics of Ailein and Bryce as they keep trying to get Innes and Conall together. But my favorite character was Wolf; I'm such a sucker for a fuzzy companion.
I loved Saskia Maarleveld's narration, she does a great job. I love this series and can't wait to see how it ends. If you like highlander romances you really need to check this book out.
Tempest in the Highlands (The Scottish Relic Trilogy – 3) by May McGoldrick
Miranda MacDonnell is on the run. When she inherited a mysterious relic from her mother, she had no idea the dangers it would bring. Now hunted by a relentless foe who will stop at nothing to find her, she has one choice: stow away on the ship of the notorious privateer, Black Hawk.
Rob Hawkins, the half-English privateer known as Black Hawk, has a mission from the Tudor king to find and kill the rogue commander, Sir Ralph Evers. To complete his quest, Hawk must find Miranda, a young woman Evers is pursuing. Caught in a tempest, he is shipwrecked with a "boy" who demonstrates an uncanny ability for saving him. Cast away on the mysterious Isle of the Dead, Hawk realizes that the "boy" traveling with him is actually Miranda MacDonnell and having her means that Evers will come to him. What begins as a ploy —using her as bait—soon changes, however, as he falls in love with her.
Ancient forces are at work, drawing the four possessors of the relic's power to the Isle of the Dead in the Outer Hebrides for a final battle where good must overcome the forces of evil in this spectacular finale to the Scottish Relic Trilogy.
Amazon     Audible     Barnes and Noble     Goodreads
My Review
4 stars
Miranda MacDonnell has the gift of sight after the death of her parents. Trying to stay one step ahead of the killer, she disguises herself as a boy and stows away on privateer's ship. Rob Hawkins, known as Black Hawk has been ordered to hunt down Ralph Evers. He knows that Evers is after Miranda and plans to find her to catch him. But the last thing he expected was for Miranda to be on his ship. Then a shipwreck leaves them on the Isle of the Dead, which is where the tablet can be destroyed.
Miranda tried to control the different situations that she finds herself in due to her sight. She tries hard to protect others especially Rob when she learns of their connection. Rob is a strong man yet is very caring for Miranda. I loved how the two of them interacted, especially when Miranda was dressed up like a boy.
Then there is the tablet. Everyone from the last two books along with Miranda and Rob are on this island to destroy the tablet. It was great coming back to these couples and finally defeating Evers. I admit that I was left a little disappointed since there were many questions that had been left open through the series that didn't really get answered.
I really enjoyed this series. Saskia Maarleveld does an amazing job narrating the story. Over all I would say if you like highlander romances that you should check out this book and the rest of the series.
I received The Scottish Relic Trilogy from the publisher for free. This has in no way influenced my opinion of these books.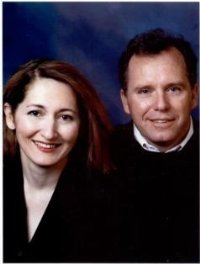 Author's Bio
May McGoldrick
(a.k.a. Nikoo & Jim McGoldrick)
Two peas in a pod, a pair of halfwits, the Laurel and Hardy of romance fiction…Nikoo & Jim McGoldrick were married in St Patrick's Cathedral in Dublin 68 years ago before a worldwide television audience. After a honeymoon tour of their oil fields in Iran, they embarked on a writing career that has produced dozens of New York Times bestsellers, two Academy Award Winning film adaptations, and a Nobel Prize for Literature. After all this, fortune FINALLY smiled on them and they won the New Jersey Lottery. Taking their two sons, Nikoo and Jim spent a year backpacking through Africa and then seven years in Tibet, teaching the Dalai Lama the subtle intricacies of Scrabble. Upon returning to the States, these two storytellers wrote thirty adult and young adult novels, two of which were RITA finalists and three which were NJRW Golden Leaf winners. They have also written two nonfiction works. Nikoo picked up an engineering degree somewhere along the way, and Jim has a PhD in 16th Century British literature.
These two write under the pseudonyms of May McGoldrick and Jan Coffey and now reside in northwest, Connecticut.