The Fifteenth of June by Brent Jones
Can we lose a loved one without losing ourselves?
Twenty-eight-year-old Drew Thomson is haunted by a troubled past. After struggling for years with alcoholism and antisocial behavior, he ends a stable relationship with his girlfriend and finds himself without a home, job, or purpose.
Just as he learns that his father is terminally ill, he meets a stranger who offers him a flicker of hope for a better future. But is he ready to bury the past?
Rich with dark humor and a keen insight into the human condition, this debut fictional release from author Brent Jones delves into life's most pressing trials—destructive relationships, love, loss, and pursuing happiness.
Amazon     Barnes and Noble     Goodreads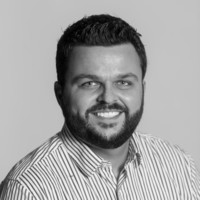 Author's Bio
From bad checks to bathroom graffiti, Brent Jones has always been drawn to writing. He won a national creative writing competition at the age of fourteen, although he can't recall what the story was about. Seventeen years later, he gave up his freelance career as a social media manager to pursue creative writing full-time. The Fifteenth of June is his debut novel.
Jones is working on his sophomore release from his home in Fort Erie, Canada. He's a bearded cyclist, a mediocre guitarist, (mostly) vegetarian, the proud owner of two dogs with a God complex, and a devoted "Instagram husband."
Website     Facebook     Twitter      Instagram
My Review
4 stars
Drew Thomson is 28 years old and an alcoholic. Drew has a lot of dysfunction in himself and his family and it's pretty clear this is what has caused the alcoholism for a coping method. We join the story with Drew leaving his girlfriend of 5 years. He is packing his thinks to leave with no goal or destination in mind. But soon he meets another woman that accepts him and also challenges his thinking.
This was an interesting story. No, I was not fond of Drew when we started but the more you read the more you understand how he turned to alcoholism. A family tragedy that was never really handed properly was the starting point. But from there you see how easy it is to find those that just accept who you are and in a sense enable your behavior. But then you find that one person that accepts who you are but they want to encourage you to be better. They have faith in you and you find yourself wanting to change, to be better, because of them.
This is a deep book and can apply to all of us no matter what we situation we are in. Are we really challenging ourselves to be better or are we just going along with everything. This is a great story and one that I recommend for anyone.
I received The Fifteenth of June from the author and Kindle for free. This has in no way influenced my opinion of this book.