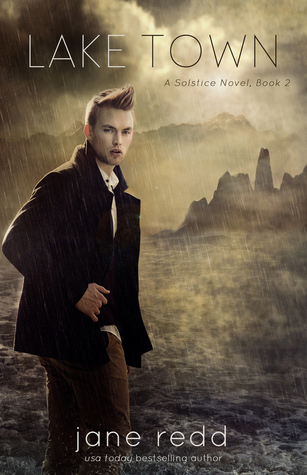 Lake Town by Jane Redd/Heather B. Moore
Jezebel James is on the run after her true abilities are discovered by the Legislature, and the only one who can protect her is Sol. In order to survive, Sol sends her into an underground hideout where she quickly discovers all that she thought was true in her dying world is false. Jez reunites with Rueben and his band of insurgents, and together they escape to Lake Town, only to find that the entire island is preparing to invade the City.
But Sol has been left behind and forced to join the ranks of the Faction, who are working against the Legislature from within. As Jez works with the insurgents and their plan to destroy the City, she learns that attacking the City might save thousands of lives, but it will destroy Sol, the man she knows she can't live without.
Amazon     Barnes and Noble     Goodreads
Author's Bio
Writing under Jane Redd, Heather B. Moore is the USA Today bestselling and award-winning author of more than a dozen historical novels set in ancient Arabia and Mesoamerica. She attended the Cairo American College in Egypt and the Anglican International School in Jerusalem and received her Bachelor of Science degree from Brigham Young University. She writes historical thrillers under the pen name H.B. Moore, and romance and women's fiction under the name Heather B. Moore. It can be confusing, so her kids just call her Mom.
My Review
5 stars
Jez's secret has been discovered and she goes on the run. Sol helps her get out of the City and to Lake Town. Jez meets back up with Rueben and learns Lake Town is planning on attacking the City. She is all for the attack and helping people learn that truth and get their freedom back. The problem is Sol is still in the City and an attack will surely kill him.
I loved Solstice and couldn't wait to see what was going to happen in Lake Town. I was not disappointed. Jez escapes the City and is happy to meet up with Reuben but she is torn apart knowing that Sol is still in the City. Sol has been trying to learn everything he can about the Fraction and fighting the Legislature.
There is so much happening in this book. The fight scenes are amazing, there is happiness, love, betrayal, unexpected twists and turns, and an ending that will leave you wanting more. This is a great young adult dystopian series and one that ranks highest on my ever growing list.
I received Lake Town from eBooks for Review for free. This has in no way influenced my opinion of this book.