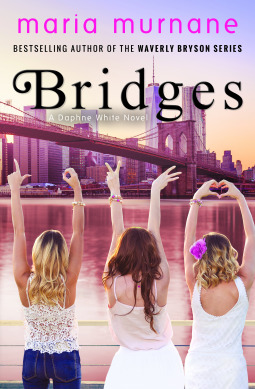 Bridges: A Daphne White Novel by Maria Murnane
It's a piece of news Daphne never expected to hear: Her globe-trotting friend Skylar, who vowed never to get married, is engaged! Time to celebrate in Manhattan—Skylar's treat, of course. After years scaling the corporate ladder, she can more than afford it.
Daphne arrives in NYC with news of her own—the novel she's finally finished appears to be going nowhere but the trash bin of every publishing house around. She's devastated but plans to keep her disappointment under wraps, something that becomes trickier when she sees Skylar's spectacular apartment. Could her life have been like this if she'd chosen a different path?
What Daphne doesn't know is she's not the only one with a secret. Skylar and their friend KC are also holding something back, but what? As the trip unfolds, the truth about each woman emerges, along with tears.
And laughter. And love.
The fun-loving trio readers fell for in Wait for the Rain is together once more. Here's to the power of friendship!
Amazon     Barnes and Noble     Goodreads
Author's Bio
Maria's road to becoming an author is a little crazy. She used to work in high-tech PR but hated it, so she quit and ended up playing semi-pro soccer in Argentina for a year. While she was down there she decided to write a novel, which was something she'd always dreamed of doing. Fast forward a few years and a LOT of perseverance, and she's now the best-selling author of Perfect on Paper, It's a Waverly Life, Honey on Your Mind, Chocolate for Two, Cassidy Lane, and Katwalk. Her next book, Wait for the Rain, will be released in Feb 2015. And yes, she still plays a lot of soccer!
My Review
5 stars
It has been a year since the three friends were on vacation in the Caribbean. Daphne has taken time off to try and publish her first book based on their adventures but seems to be in the rejection rut. Skylar calls her up and invites her and KC to come to New York to celebrate her engagement. Besides being surprised, Daphne wants to be there for her friend but can't help thinking about how her book is failing. While in New York and after seeing how successful Skylar is Daphne starts thinking that her life could have been better if she had made different choices. But not everything is great for these three women. They all have their burdens and this weekend is going to be about so much more than just an engagement.
After having read Wait for the Rain I was excited to see what the three women had gotten themselves into. Each has found their own happiness and has their own issues but when Skylar shares her engagement the other two are very happy for her. But once Daphne sees how successful Skylar is jealousy rears its angry head. Each woman has their own problems that are going to come to the surface this weekend. But they are all strong and there for each other. Together they can overcome whatever difficulties they are facing.
This is a great story and I love all the emotions you will go through reading it. I can related to Daphne feeling like a failure then being jealous of Skylar. Not one of her finest moments but the pain had to come out before they could help her heal. But that goes for all three women. I have to say I think Sloane stole the show with her dating stories. If it could go wrong in dating I swear it would for her.
This is a follow up book from Wait for the Rain but it could be read as a standalone book. If you like the drama and the strength behind a great group of friends you will like this book.
I received Bridges from the author for free. This has in no way influenced my opinion of this book.
BRIDGES Virtual Launch Part on Facebook
Make sure to check out the Virtual Launch Party on Facebook May 15, 2017 at here.
Greetings, bibliophiles!
You and all of your friends are invited to participate in a fun-filled evening with bestselling author Maria Murnane. Join us Monday, May 15 as we celebrate the release of Maria's new book, BRIDGES.
6-9pm CDT
7-10pm EDT
We have a great night planned!
Scheduled activities include an Ask The Author Anything segment as well as exciting games inspired by Maria's books.
Additionally, there will be a special appearance by Waverly Bryson, the star of Maria's PERFECT ON PAPER series. Waverly will be dishing out free relationship advice and PARTY FAVORS!
This will be an unforgettable evening of fun and fellowship! See you there, and remember to invite your friends!!!!